Top Activities for a Yacht Charter in Norway
27th December 2021
Norway is a kingdom in the Scandinavian peninsula, bordering Sweden to the west and Finland to the northeast and is a naturally beautiful destination to discover by yacht charter. It is hard not to love this amazing country with so much natural beauty, great cities, friendly people and exciting activities. Though it has an overall cool climate throughout the year, Norway offers many things to do all-year-round. For those looking to charter a yacht in Norway, we have put together a list of the top activities and destinations to explore.
Norwegian Fjords
Norway is world-famous for its majestic fjords and they are rightly one of the country's main attractions. There are over 1,000 fjords in Norway, ranging in size from tiny coves to vast inlets that can be over 200 kilometres (124 miles) long. Some of the most popular and picturesque fjords include Geirangerfjord, Sognefjord and Hardangerfjord. Cruising through these dramatic landscapes on a yacht is a truly unforgettable experience.
The Northern Lights
Norway is one of the best places in the world to see the aurora borealis or Northern Lights. The best time to see them is usually from September to March when skies are dark and clear. There are many places in Norway where you can view the Northern Lights, but some of the most popular include Tromsø, Northern Norway and Lofoten. Although the Northern Lights are most visible when it is dark outside, you can still see them in very faint glimmers when the sun is just below the horizon during the darkest days of winter.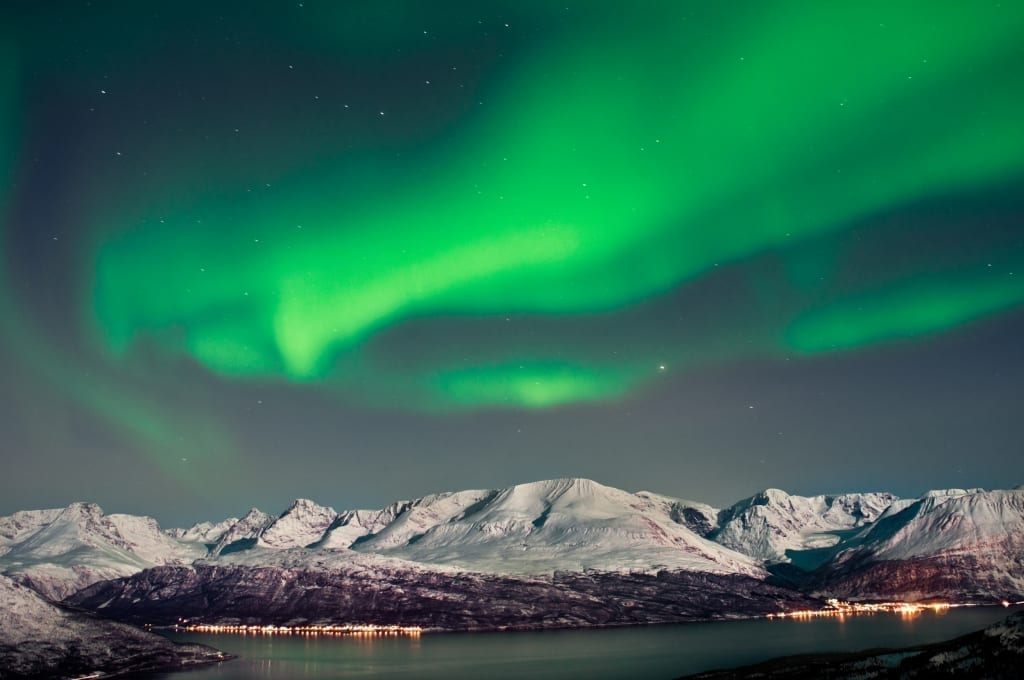 Viking Excursions
Norway is home to several Viking-themed attractions, allowing guests the opportunity to live out their fantasies of being a savage Norseman. The best among these are the one-hour-long guided tours at Nidaros Cathedral in Trondheim. Here, you can explore around 1,000 years of Norwegian history by walking through the excavated ruins of the old Viking town, learning about the customs and daily lives of the ancient Norsemen.
Hiking
Norway is a paradise for hikers, with its dramatic landscapes, lovely forests and many hiking trails. There are hikes to suit all levels of fitness and experience, from easy strolls through the forest to challenging multi-day hikes. Some of the most popular hiking areas include Jotunheimen National Park, Rondane National Park and Hardangervidda National Park.
City Tours
Norway's cities are also worth exploring, with their mix of old-world charm and modern sophistication. Oslo, Bergen and Trondheim are popular stops for those chartering a yacht in Norway, but lesser-known cities such as Stavanger and Tromso also have lots to offer.
Best Destinations in Norway
There are many amazing destinations to explore in Norway, but here are some of our favourites:
Oslo – The capital of Norway is a cosmopolitan city with a rich history and culture. Highlights include the Royal Palace, the Nobel Peace Centre and the Viking Ship Museum.
Bergen – A picturesque harbour town located on the shore of the North Sea, Bergen is host to several popular attractions such as Bryggen, a UNESCO World Heritage Site and the Fløibanen funicular railway.
Stavanger – The oil capital of Norway, Stavanger is a seaside city surrounded by fjords and lush forests. Highlights include Preikestolen, a spectacular cliff with amazing views of the Lysefjord and the Norwegian Petroleum Museum.
Trondheim – The oldest city in Norway is home to Nidaros Cathedral, an 1100-year old church that was once the coronation place for many medieval Norse kings.
Tromso – Located above the Arctic Circle, Tromso is famous for its winter activities. It also has several museums dedicated to the midnight sun and northern lights.
Lofoten – A group of islands located off the north-western coast of Norway, Lofoten is known for its dramatic landscapes, seafood cuisine and charming villages.
Geirangerfjord – One of the most famous fjords in Norway, Geirangerfjord is located in the western part of the country and is known for its steep cliffs, waterfalls and stunning views.
Sognefjord – The longest and deepest fjord in Norway, Sognefjord is also one of the most popular sightseeing destinations in the country. It was even featured as a location in the movie "Kon-Tiki".
Still need convincing? Here's why you should spend your yacht charter in Norway:
1) Norway is a natural playground for outdoor enthusiasts. Whether you are an experienced hiker, a novice camper or just someone who loves being around nature, there is no shortage of wonderful hiking trails and stunning scenery in this country. With all the fjords, waterfalls and mountains to explore, it's no wonder why many people regard Norway as the most beautiful country in the world.
2) The Norwegian coastline is scattered with hundreds of islands, all with their own unique charm and character. Some are home to fishing villages, while others house nature reserves where you can go hiking, camping or even kayaking and sailing.
3) Many would say that Bergen is one of the most charming cities in Scandinavia. With a picturesque harbour, cobbled streets and rich cultural history, it's no wonder why Bergen is often included as a stopover by many cruisers.
4) Norway is home to some amazing cities and fascinating destinations, but you might be surprised by the sheer number of charming villages scattered throughout this country. Whether you want to go on a day trip or spend your holiday in one place, you're sure to find something that will suit your style and budget.
Our verdict
Choosing Norway for your yacht charter offers the best of both worlds – you get to enjoy idyllic views and explore beautiful nature, but you can also go on a city break or spend time sampling local cuisine, visiting museums and checking out landmarks. With so many things to do in this amazing country, it's no wonder why Norwegian yacht charters are becoming increasingly popular.