YACHT CHARTER IN NORWAY
Considered by many as one of the most beautiful countries on the planet, Norway is full of wild natural splendour and beauty that will simply take your breath away. A Princess Yacht Charter in Norway and through the spellbinding Norwegian fjords will live long in your memory.
Norway, home to vast National Parks, is wild and rugged. Lose yourself in peaceful serenity on your gentle Norway yacht charter journey, seeing landscapes magically transform around you. And travel for hours without seeing a single soul. Everything in Norway is on a grand scale, varying from the infamous fjords right up to the snow-capped mountainous peaks which stretch for miles upon miles. Exploration of Norway's rugged scenery is particularly satisfying by boat, allowing you reach remote areas and get up close and personal with the natural surroundings and wildlife.
As you travel along the imposing coastline you will witness spectacular mountain ranges, rippling glaciers and a network of deep forests. Norway is an example of nature at its very best.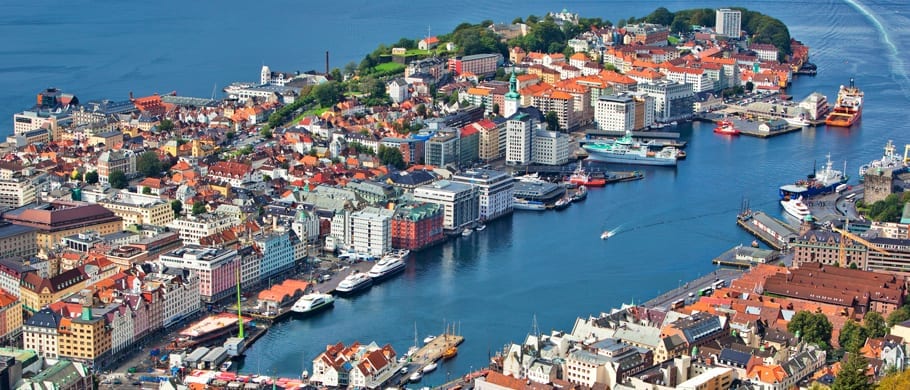 WHAT TO SEE ON A YACHT CHARTER JOURNEY ACROSS NORWAY
Bergen, the gateway to the fjords, makes a great starting point for your Norway yachting holiday.  The culturally enriched UNESCO World Heritage city combines lively city life, world-leading seafood restaurants and stunning natural wonders on its doorstep. From the city's colourful harbour, you can easily access the coastline and inner fjords (away from the North Sea) and take a generally calm, easy and sedate Norway yachting cruise, as you connect between the northern and southern regions.
Lysefjord  – Witness the beauty and serenity of one of Norway's most spectacular fjords where waterfalls and sheer rock cliffs combine to create scenes straight out of a fairy tale book. Gaze in awe at mountains dramatically towering 1000 metres high above the 42km-long fjord. Get your camera at the ready to snap friendly goats grazing on patches of grass on the waters' edge.
Hardangerfjord – In Spring, the glaciers here come alive with blossoming fruit trees. Visit local farms in this fertile haven and taste the local cider. Or if you are feeling adventurous, go on a hike to Trolltunga, immersed in an emerald green landscape of steep majestic mountains, crystalline waterfalls and snaking rivers.
Flåm – The town of Flåm is located by Sognefjord in an idyllic landscape of soaring mountains, cascading waterfalls and thick lush forests that enthrals many a visitor. There is a lot to see and do here including kayaking, hiking and wildlife spotting. You can also learn about the ancient Viking way of life in the nearby settlement of Gudvange or take to the tracks on the charming Flåmsbana mountain railway for an amazing alternative view of the fjord.
Whale watching – Norway's waters are habitat to a wonderful variety of whale species – from orcas and humpbacks to minkes and porpoises.  Seeing them rise with such force above the water surface is a fascinating sight. The whales tend to gather at coastal areas near fjords and can typically be found in the north around Tromso and the Lofoten Islands.
Northern Lights – This amazing natural wonder is synonymous with Norway and wrapped up in Nordic folklore. Seeing otherworldly flashes of neon blue and green dance across the sky creates a lifetime memory. The Northern Lights (aurora borealis) can be spotted anywhere in Norway but heading north, above the Arctic Circle, increases your chances of catching a glimpse on your holiday. Sightings are often found in Tromso, Alta, Narvik, Lyngeford, Svalbard and the Lofoten Islands.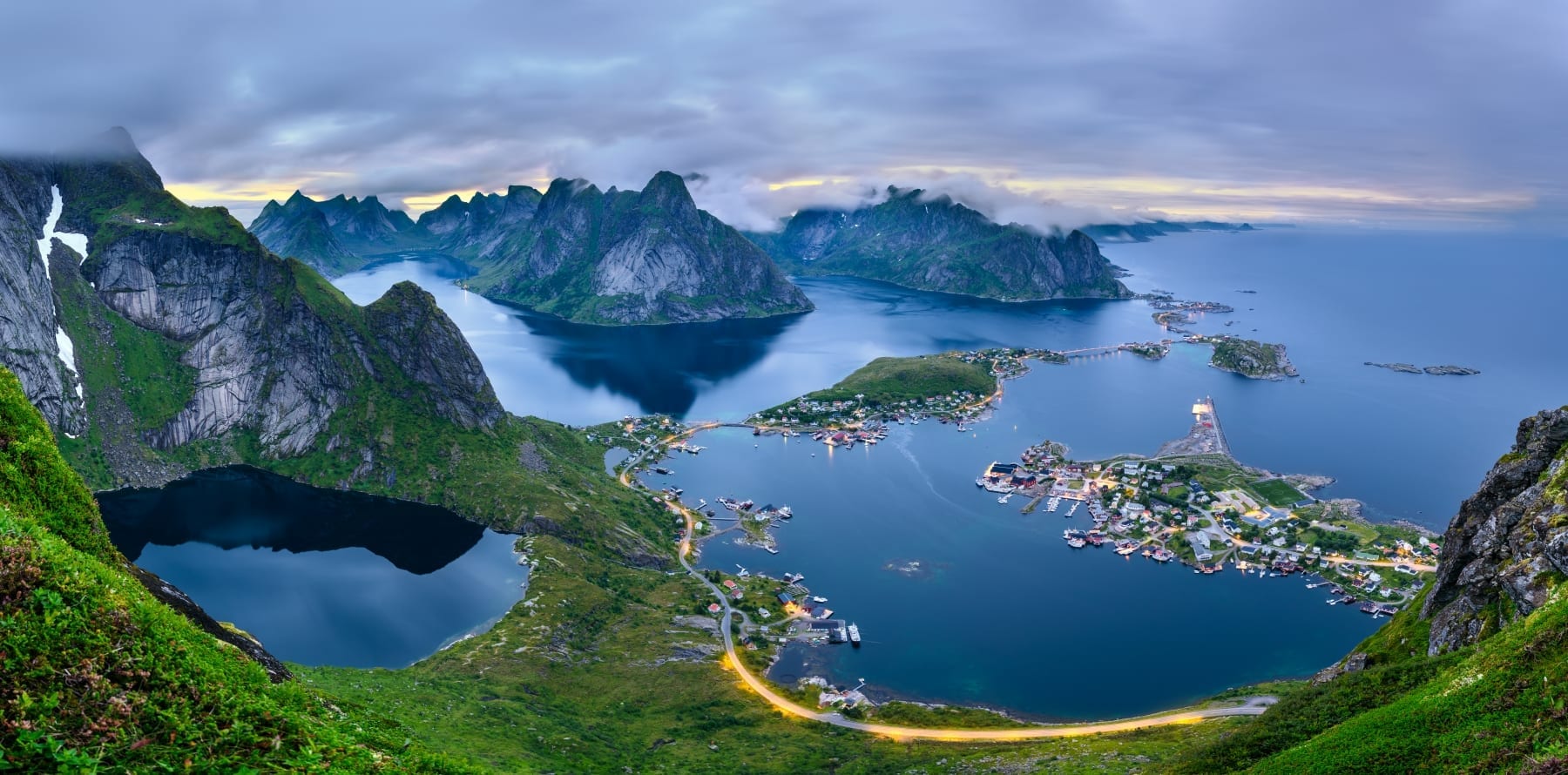 Discover an itinerary from Bergen to Hammerfest.
AVERAGE SEASONAL TEMPERATURES
You may have heard about the unpredictability of Norway's weather, which is true. Every season can contain four seasons of weather, so come prepared with various layers of clothes. Fjord cruising can be windy and chilly. Added to that is the variation of climate across the country. The coastal areas attract precipitation, and in the winter Norway's west coast tends to be quite mild in contrast to the much colder north.
Between May to August is deemed to be the best time to visit, if you want to avoid the harsh winter conditions on your Norway yacht charter holiday. May is the driest month, and July and August, the sunniest and warmest, with temperatures averaging about 20°C (68°F).
During the long summer months, the sun never sets in parts of Norway. Every year for about two months, the population of Tromsø, to the north, experiences the 'midnight sun' phenomenon.
TRAVEL ESSENTIALS
The currency of Norway is the kroner. One krone (kr) is equal to 100 øre. The official language of Norway is Norwegian or Norsk, spoken by over 95% of the population.
HOW TO CHARTER A YACHT IN NORWAY
Princess Charter offer a variety of yachts for charter to Norway, ranging from 20 metres to 100 metres in length.
To book your perfect getaway and to design the ideal itinerary to suit your needs, give our team a call 0207 499 5050, or email info@princessyachtcharter.com. Alternatively, leave a few details here, and we'll call you back.
Enquire about
this destination