Yacht Charter Crew: Working on a yacht
18th May 2021
Luxury Yacht Charter Crew – what is it like to work on a luxury yacht charter?
Working on a yacht is a tempting proposition for a lot of very good reasons. First and foremost, charter crew get access to some of the most remote, exclusive and memorable destinations in the world. Certainly, the hours can be long but the periods of downtime enable crew members to immerse themselves in cultures, cuisines and activities that very few people will ever experience. Working on a yacht also means you get to interact, day-in day-out, with some superb hardware, from the superyacht itself to the various on board toys. You get to rub shoulders with some extraordinary people too and with salaries ranging from around £1,500 per month for an entry-level deckhand to £15,000 per month for captains of the world's largest, most complex and most valuable superyachts, working on a yacht can also be an extremely lucrative way to earn a living.
It's also a career with plenty of opportunities. The superyacht industry has seen such a pronounced recent increase, both in the scale of yachts and in the sheer numbers being built, that yacht jobs have become more varied and prolific than ever before. Whether you want to be a captain, a deckhand, an engineer, a chef, a bosun or a stewardess, there are very few careers that offer such a compelling combination of adventure, training opportunities, career progression, job satisfaction and financial reward.
The importance of a quality charter crew
It's often the case, for owners as well as for charter guests, that the real pleasure of the yachting experience consists not in the calibre of the yacht or the exclusivity of the destination but in the performance of the crew. That's why it's important that each new crew member is appointed on the basis of their character and dispositional suitability for a specific yacht, a specific owner and a specific set of colleagues, as well as on the basis of their skills, experience and qualifications. Certainly, there are particular skillsets that will make a candidate more valuable to a given yacht in a particular part of the world – not least fluency in the local language, expertise in events planning and qualified instructor status in sailing, diving or spa treatments. But in the confines of a yacht at sea (and in an industry which is dedicated exclusively to the enjoyment and relaxation of those on board), it is vital above all that each crew member is as compatible as possible with the cultural profile of the yacht in question.
Discover our interview with the Captain of MS Aurum Sky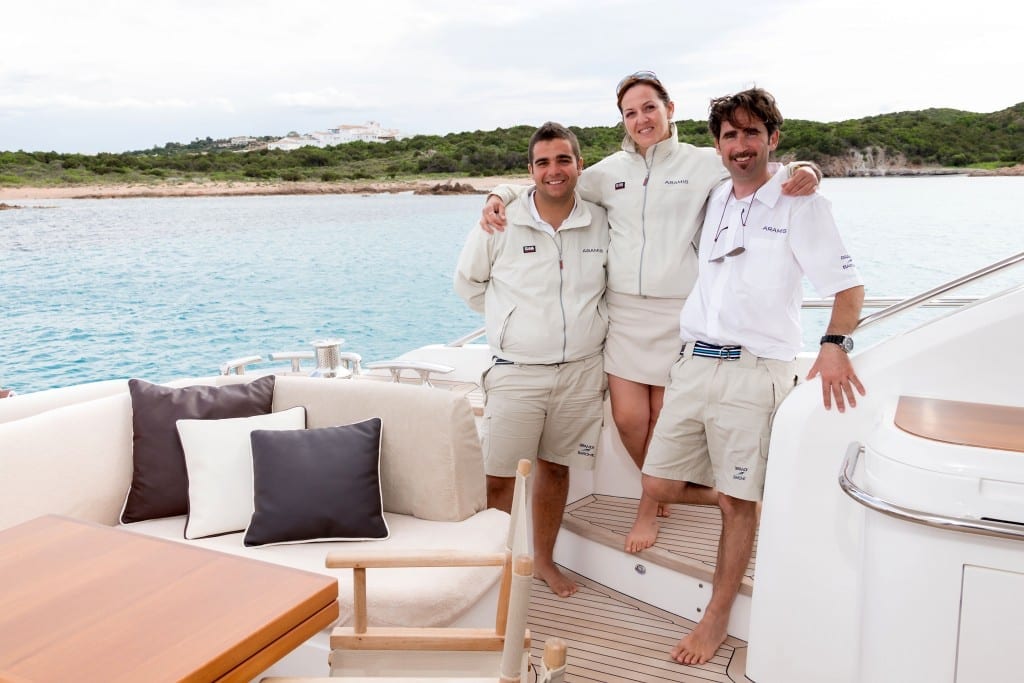 Superyacht standards: charter crew training
Working on a yacht requires training – and lots of it. While most superyacht applicants will already have some useful yachting experience, the ability to demonstrate that expertise in the form of recognised industry qualifications is integral to the maintenance of safety and operational standards on board. That's why, in addition to the provision of external training in accordance with regulatory requirements, most superyacht charter management companies now operate a set of internal protocols that help provide a formal structure for the ongoing training of its crew.
That routinely includes the proper use of all marine and watersports equipment, as well as regular drills for practical safety protocols, emergency response and first-aid. Depending on your specific role on board, critical MCA (Maritime and Coastguard Agency) certification for professional seafarers, formally recognised by the superyacht industry, also includes MCA STCW Basic Safety Training, MCA Yacht Rating and Deck Officer Certificates and MCA Engineering Officer Certificates. RYA (or IYT) courses, such as Yachtmaster and Yachtmaster Ocean certificates, which have been commercially endorsed, are also well regarded – and such is the value of the modern superyacht industry that there is even now a commercially recognised foundation degree in 'Operational Yacht Science' to help prepare seafarers for the varied challenges of working on a superyacht.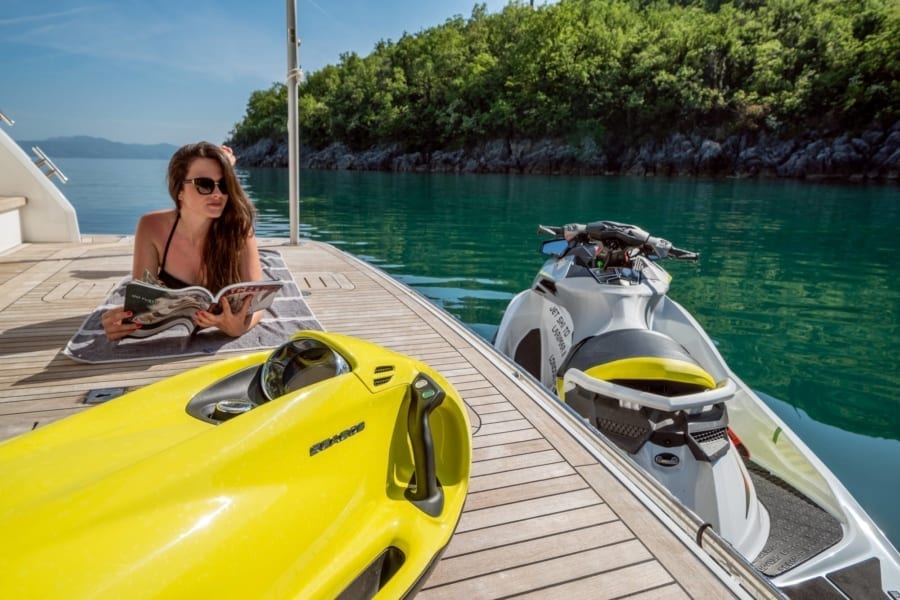 Charter crew: operational jobs on a yacht
The captain, who is directly accountable to the owner, has full responsibility for the safe and effective operation of the yacht and its crew, as well as for associated issues like accounting, maintenance and repairs. With extensive professional maritime experience, they will often be quite hands-on on smaller yachts but on larger yachts, where crew rotation is commonplace, they may adopt a slightly more administrative role.
The first officer (and second officer in the case of large yachts) helps manage the deck crew and deck operations on behalf of the Captain. The navigation, the supervision of tenders and toys and the execution of bridge watches are all a key part of the job, as are safety and emergency response. They are helped by the bosun who takes care of the yacht's exterior, while managing the deckhands on their behalf. The deckhands themselves are routinely required to turn their hand to cleaning and maintenance, and provide additional support for the interior department and the chef. Finally, the chief engineer has responsibility for the reliable functioning of the yacht and its various systems, as well as for the management of any additional assistant engineers, electricians and electronic technical officers the yacht might require.
Charter crew: interior & service jobs on a yacht
The chief steward or stewardess has a very important job. He or she is responsible for the management of the yacht's interior and often has direct involvement in the recruitment of key interior staff. Central to the role is engendering a culture of painstaking care and attention to detail among the stewards and stewardesses, while helping refine the art of delivering first-class service without becoming overtly visible or intrusive.
A good charter yacht chef is also vital to an enjoyable experience on board – and they have to be a logistical expert as well as a fantastic cook. From sourcing, buying and transporting local ingredients to adding fresh local cuisine styles to an ever-expanding culinary repertoire, the chef has to make sure that, however challenging the location and however testing the requests of the charter guests, they are able to produce memorable food while staying abreast of individual guest tastes, allergies and intolerances. Happily, on the industry's largest yachts, a sous chef is often on hand to help.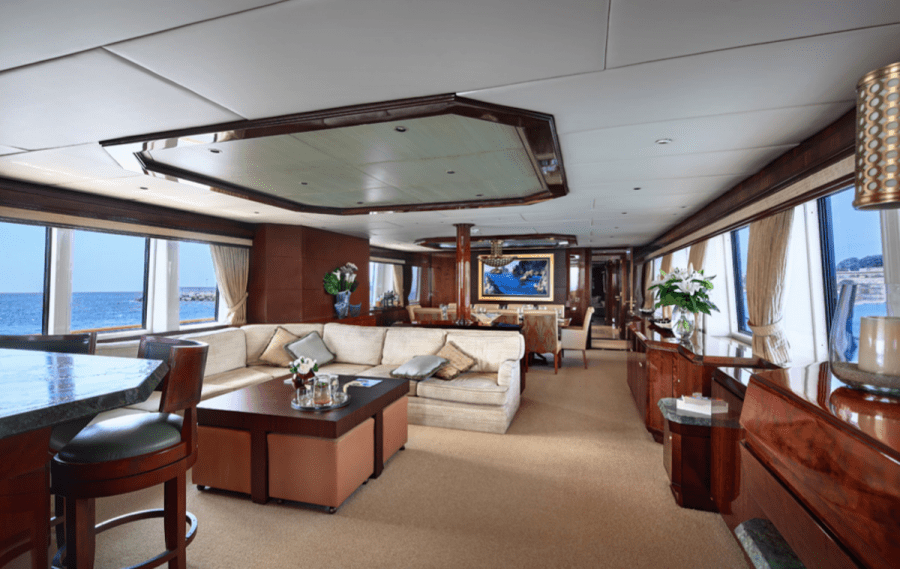 Superyacht charter: the team ethic
Whatever your role on board a superyacht, you need to be optimistic, personable, hardworking, highly professional and entirely discreet. As part of an effective team, you also need to be ready and able to adapt to each guest that spends time on board. When do they like to get up? What do they like to eat? Which part of the yacht do they gravitate toward for relaxation? Which paper do they like to read? How do they like to be addressed? What kind of music do they enjoy? The planning process certainly gives you a good profile of each set of guests, but being able to adapt on the hoof, as each charter guest becomes better known to you, is a key part of making each superyacht charter experience that bit more special.
Click here to discover our yachts for charter, and our destinations.