Sirocco Yacht Charter, featured on Below Deck: Mediterranean
8th April 2021
SIROCCO YACHT CHARTER – FEATURED ON 'BELOW DECK: MEDITERRANEAN'
Ever wondered what it would be like to be a fly on the wall of a particular luxury charter yacht, witnessing what goes on below deck?  Now's your chance to find out.
Watch life onboard the Sirocco charter yacht be revealed on screen, in the hit US reality series 'Below Deck: Mediterranean' in season 2 and 4.  UK audiences can catch-up from the beginning on channel E4 from March 2021.
If you're a stranger to the reality show, it follows crew and guests embarking on a luxury yacht charter. Viewers get an eye-opening glimpse of the many aspects of what goes on behind-the-scenes. We see the lengths the crew go to provide the ultimate in five-star luxury demanded by discerning clients. Meanwhile, there's some occasional turbulence below deck as a romantic saga unfolds.
While cameras follow a different group of guests in each episode of Below Deck: Mediterranean, (a spin-off of Bravo's original Below Deck series), we see new stories and perspectives emerge.  As the drinks flow, in episode 12 of season 2 of Below Deck, the requests made by a group of lively Texans pose a big challenge for Sirocco yacht's Captain Sandy and her crew.  In another Sirocco Below Deck appearance, in season 4 (episode 17), bad weather causes the yacht to become stranded in dock and the interior team pull out all stops.
The luxury Sirocco charter yacht… Seen it? Now sail it.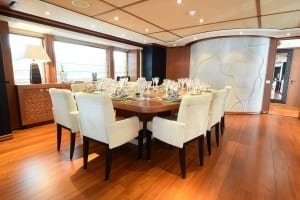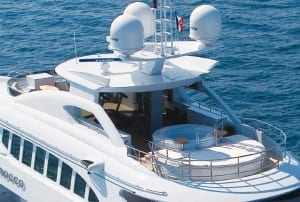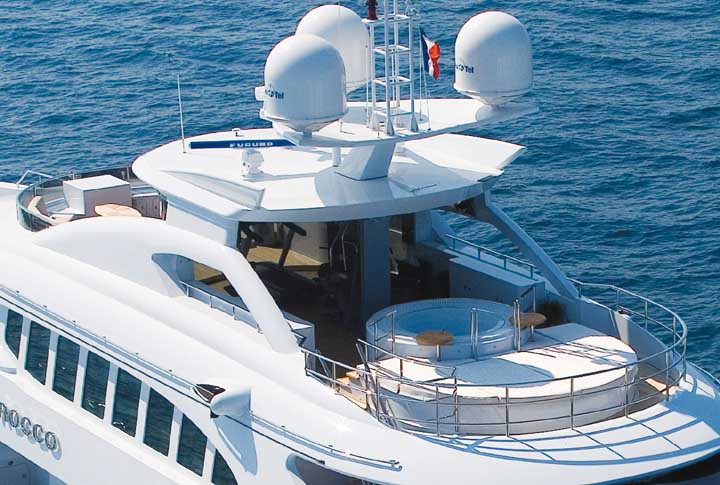 If you've been following the adventures aboard the Sirocco luxury yacht and like what you see, why not book a Sirocco yacht charter through Princess Charter Yachts. Bookings are available in the summer and winter to sample the awe-inspiring Mediterranean shorelines and cultural sights of Corsica, French Riviera and Sardinia.
In Below Deck: Mediterranean, you may have caught glimpses of guests soaking up the luxurious and relaxing surroundings of the Sirocco yacht. It is indeed, as it looks on screen, an especially spacious yacht, with a roomy light saloon and dining.  A yacht that is naturally suited for entertaining, socialising and feeling totally at home in.
Light floods every space onboard the 47m-long Sirocco superyacht in a style of décor that is modern and refined in luxurious style. Exquisite hardwood furniture and ebony statement features, fabrics in a palette of earthy colours, contrasted with a timeless ivory hue backdrop, create an alluring exotic look.
The 4700 Series motor yacht offers pampered accommodation for up to 12 guests to enjoy plus a dedicated Sirocco crew of up to nine. A pleasure palace on the water, there are plenty of facilities on the luxury Sirocco charter yacht to fill your leisure time. Get the most out of every workout in a well-equipped airy gym that boasts sliding panoramic doors opening onto the deck. What better way to chat with friends than relaxing in a jacuzzi on the upper deck looking out to the endless ocean. Plus, there's also no shortage of water toys to take for an exhilarating spin, thanks to Sirocco's onboard jet skis, waterboards, snorkelling gear, two high-performance tenders and more.
Sirocco yacht charter booking rates

To book your next charter voyage on Sirocco, or to discuss your options, call our friendly Princess Charter Yacht advisors.  Rates in the summer (high/low season) are priced at €195,000 pw/€180,000 pw, and in winter (high/low) €195,000 pw/€180,000 pw.