Luxury Yacht Charter in Greece
21st January 2021
Chartering a luxury yacht in Greece is among the most memorable holiday experiences there is. Though broadly divided between the Ionian in the west and the various island chains in the Aegean Sea to the south and east, Greece's location, climate, history and topography provide everything you need for a crewed yacht charter holiday perfectly tailored to the ambitions and personalities of you and your guests.
Greek Islands: a more flexible chartering itinerary
Greece's position toward the eastern part of the Mediterranean, between the heel of Italy and Turkey's Turquoise Coast, enables it to deliver a generous six-month season that runs all the way from May to October. And with 9,000 miles of coastline and more than 2,000 islands, Greece's scattered archipelagos also provide a virtually boundless supply of yacht charter options.
You can go for a highly active seafarer's charter defined by watersports, kayaking and fishing, courtesy of pristine mountainous islands like Ithaca, Paxos and Kefalonia. You can opt for the hedonistic neon glitz of a youthful destination resort like Malia in Crete or Laganas on the Ionian Island of Zakynthos. You can pick any number of destinations with a historical narrative of global significance – not least, Athens, Mykonos, Santorini and Rhodes. Or you can tailor your route to take in the chic traditionalism of classical Greece with a slower, more modest break on an island like Folegandros.
For those accustomed to the A-list hubs of the French and Italian Rivieras, there's world-class sophistication on offer here too. With ultra-exclusive resorts like Santorini and modish people-watching hubs like Corfu's UNESCO-protected old town, it's by no means difficult to tailor your Greek Islands holiday toward luxury and prestige. And yet, one of the greatest strengths of Greece as a crewed yacht charter destination is not just how easy it is to formulate a customised itinerary with your charter management company. It's the fact that, if you want to tweak the plan during the holiday itself, very few places in the world give your charter captain greater flexibility to do that. With reliable weather, scores of tightly packed archipelagos, a wide range of different visitor experiences and very manageable cruising distances between stops, it is without question Europe's most charter-friendly destination.
Greece Yacht Charter: Ionian Sea
A seven-day crewed charter holiday between Corfu and Zakynthos delivers all the food, wine, watersports and wilderness that makes this part of the Ionian Sea feel so special. Corfu itself is an island of wonderful contrasts. You can immerse yourself in the all-night party scene of Kavos or you can tread the charming cobbled streets of the old town. You can indulge in the exclusive shops and restaurants of the impressive marina or you can take a tour of the island's extraordinary archaeological remains.
Further south, the compact Paxi archipelago is equally striking. In addition to its spectacular beaches, it boasts a range of dramatic limestone cliffs, caves and rock formations, enabling you to anchor up in a sheltered cove for some exploratory sea kayaking. Antipaxos, the second largest island in the archipelago, is also renowned for the calibre of its local wines.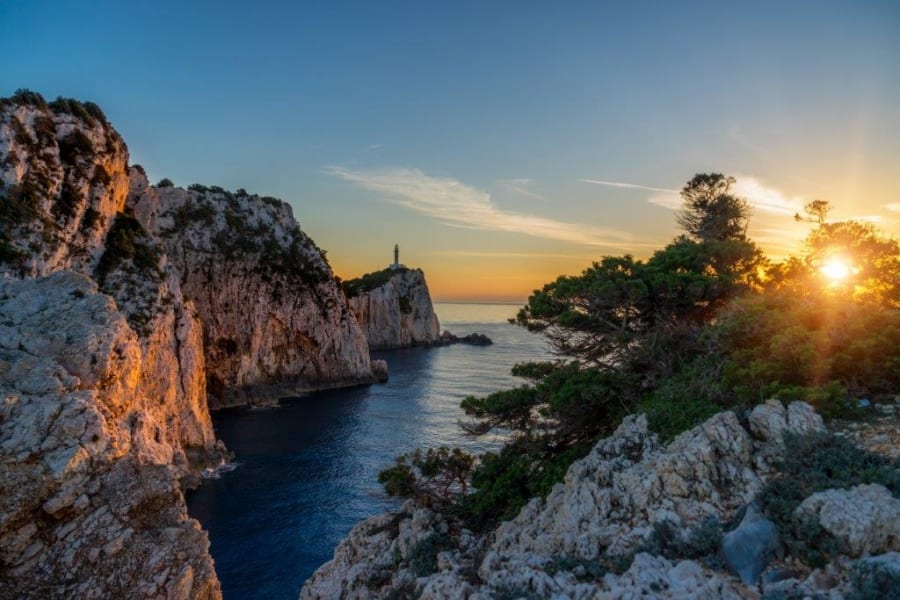 The island of Lefkada, which nestles close to the Greek mainland, provides useful protection from the elements, as well as a new marina with all the services and attractions the well-heeled yachtsman would expect. But for an island that trades some of that luxury for an extra dose of seclusion and tranquility, Meganisi, just a short hop to the east, is ideal. It provides a handful of charming villages, a single modest marina and all the empty bays, remote headlands and sheltered anchorages you could want.
Ithaca, Kefalonia and Zakynthos are equally deserving of a visit during a crewed yacht charter in this part of the Ionian Sea. Myrtos Beach, among the mountains and steep sea cliffs of Kefalonia's northwestern quarter, is a very satisfying diversion, as is Melissani Cave in the east. And the unspoiled yachting haven of Ithaca, which is famed as the island home of mythical hero Ulysses, combines sheer cliffs, rocky landscapes and verdant olive groves with great hiking trails, traditional tavernas and plenty of opportunities for diving and kayaking.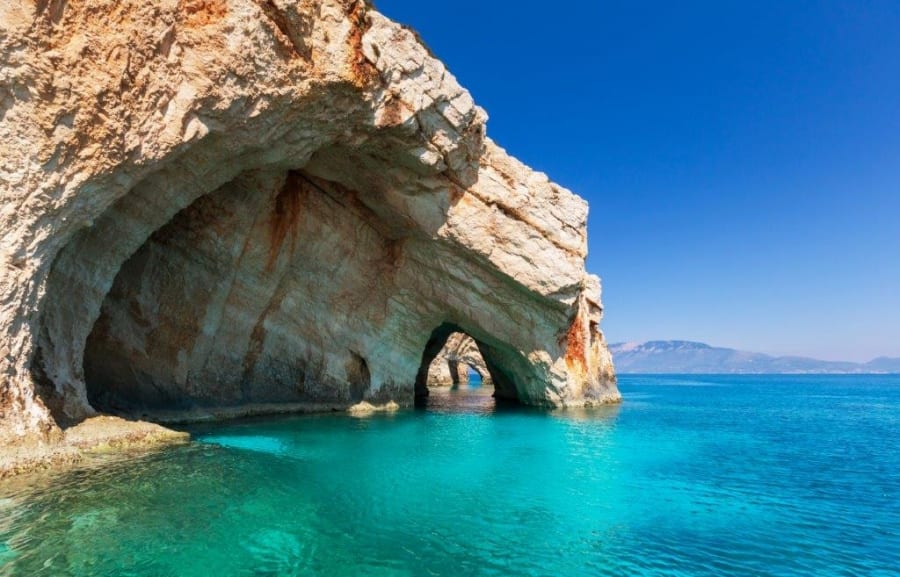 Greece Yacht Charter: Aegean Sea
Chartering a yacht in the Aegean often begins with Athens, before taking you on a personalised tour of the sublime Cyclades archipelago – but it would be very wrong to discount Athens as nothing but a logistical hub for the boarding of your boat. With a marina just a short hop from the city centre, a luxury yacht puts you right up close to ancient urban streets, high-octane city thrills and some of the world's most extraordinary archaeological sites. The Acropolis is a major highlight, not least because it includes the Parthenon – a well-preserved temple from the golden age of the Athenian Empire, which predates the birth of Christ by more than 400 years.
If you can tear yourself away from Athens' thoroughly addictive fusion of old and new, you will find much the same charm in more intimate and manageable scale on the famous island of Mykonos. Though it's become well known as a partygoer's paradise, it's also a very worldly and cosmopolitan destination, with great beaches, a buzzing restaurant scene, lots of atmospheric architecture and plenty of appeal for elegant sophisticates and celebrity holidaymakers, sipping coffee and retaining mock anonymity in oversized sunglasses.
For authenticity without the slightest affectation, Syros is tough to beat. As a rural island with the highly active port town of Ermoupoli at its heart, it's a great place to head out for a meal and an even better place to immerse yourself in a culturally faithful slice of maritime Greece. Nearby Paros is also a pleasurable stop for cruising yachtsmen on account of the relative absence of tourists – and if you want to take that principle even further, neighbouring Antiparos is a great place to find a sheltered inlet for a private swim at anchor.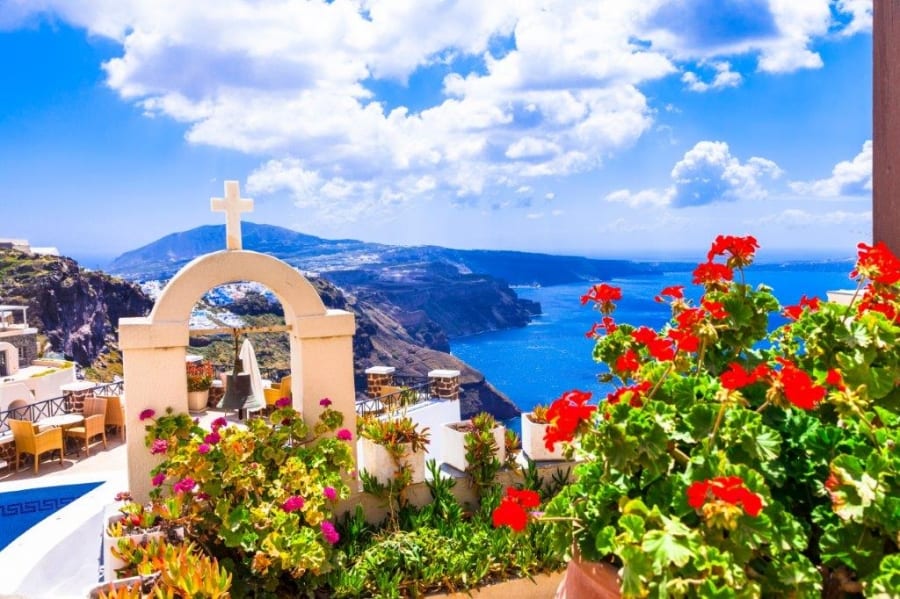 Romantic Santorini, with its cliff-top towns, rolling vineyards and world-famous sunsets, is arguably the most beautiful island in the entire region but with its pristine natural splendour and leafy, low-key towns, Folegandros is another very charming place to stop. And that of course is the beauty of this place. With around 220 islands in the archipelago, you can stick to the celebrated highlights or you can head for one of the smaller volcanic islands that litter the region and feel like you're the only person in the world to have discovered it.