THE 10 LARGEST SUPER YACHT RENTALS
4th March 2019
We take a look at the top 10 mega yachts currently sailing the seas…
There can be no better way to see the world than aboard a super yacht rental. At Princess Charter, we pride ourselves on offering the finest range of luxury yachts for charter in some of the world's most luxurious and breathtaking destinations – from Corsica to the Caribbean, and Sardinia to the Seychelles.
Set sail with us aboard any one of our luxury yachts and you could be living the high life aboard sailing vessels that can stretch from 25 metres in length to over 100 metres – challenging enough for even the most experienced captains, but still a long way off being among the biggest yachts in the world.
A 'mega yacht' is a term used to describe a privately owned yacht which is over 24 metres in length, and operates with a professional on-board crew. Here are the top 10.
1. Azzam – 180.61 metres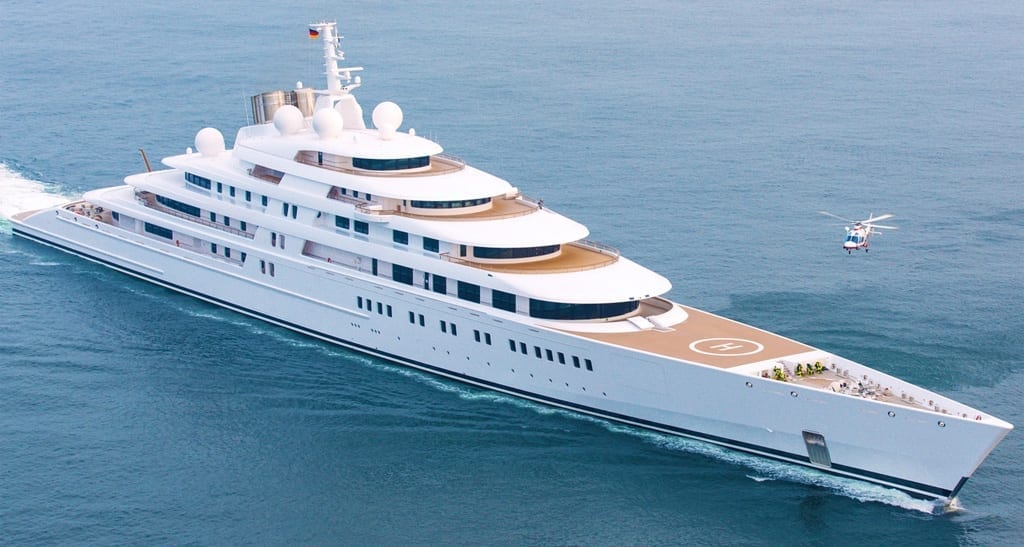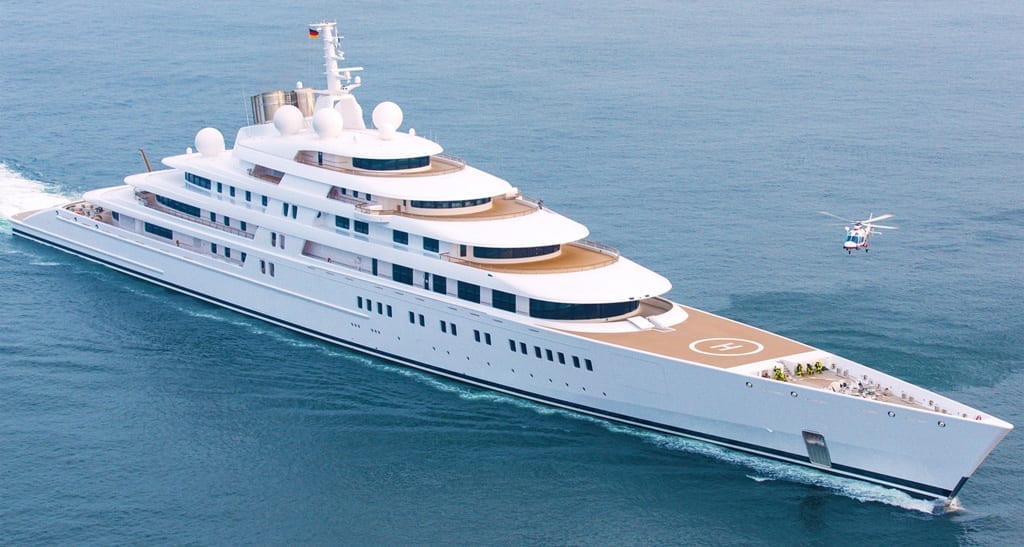 Image source: https://beam.land/yachts/azzam-the-story-behind-the-longest-yacht-in-the-world-864
Measuring an horizon-busting 180.61 metres, Azzam is now the biggest yacht in the world. Built by Lürssen Yachts, who have crafted over half of the top 10 largest yachts in the world, the actual owner of this vessel remains a secret.
Her sleek exterior was styled by Nauta Yacht Design, while her relaxed French Empire-inspired interior is the handiwork of Christophe Leoni, but this super yacht is about much more than good looks – her innovative water-jet propulsion system has two fixed drives and two directional, which can push the huge yacht to a cruising speed of 12 – 15 knots, which is a lot for a yacht of this size.
2. Eclipse – 162.5 metres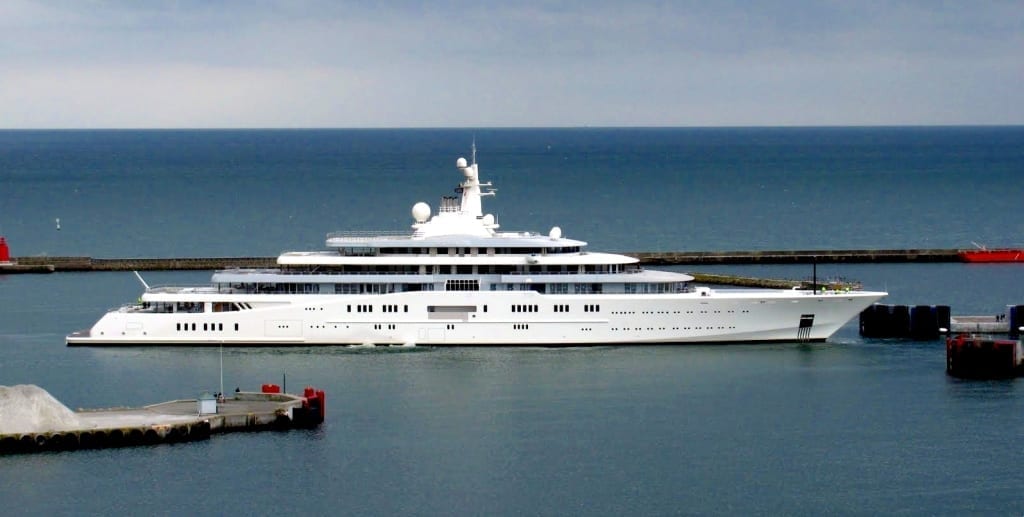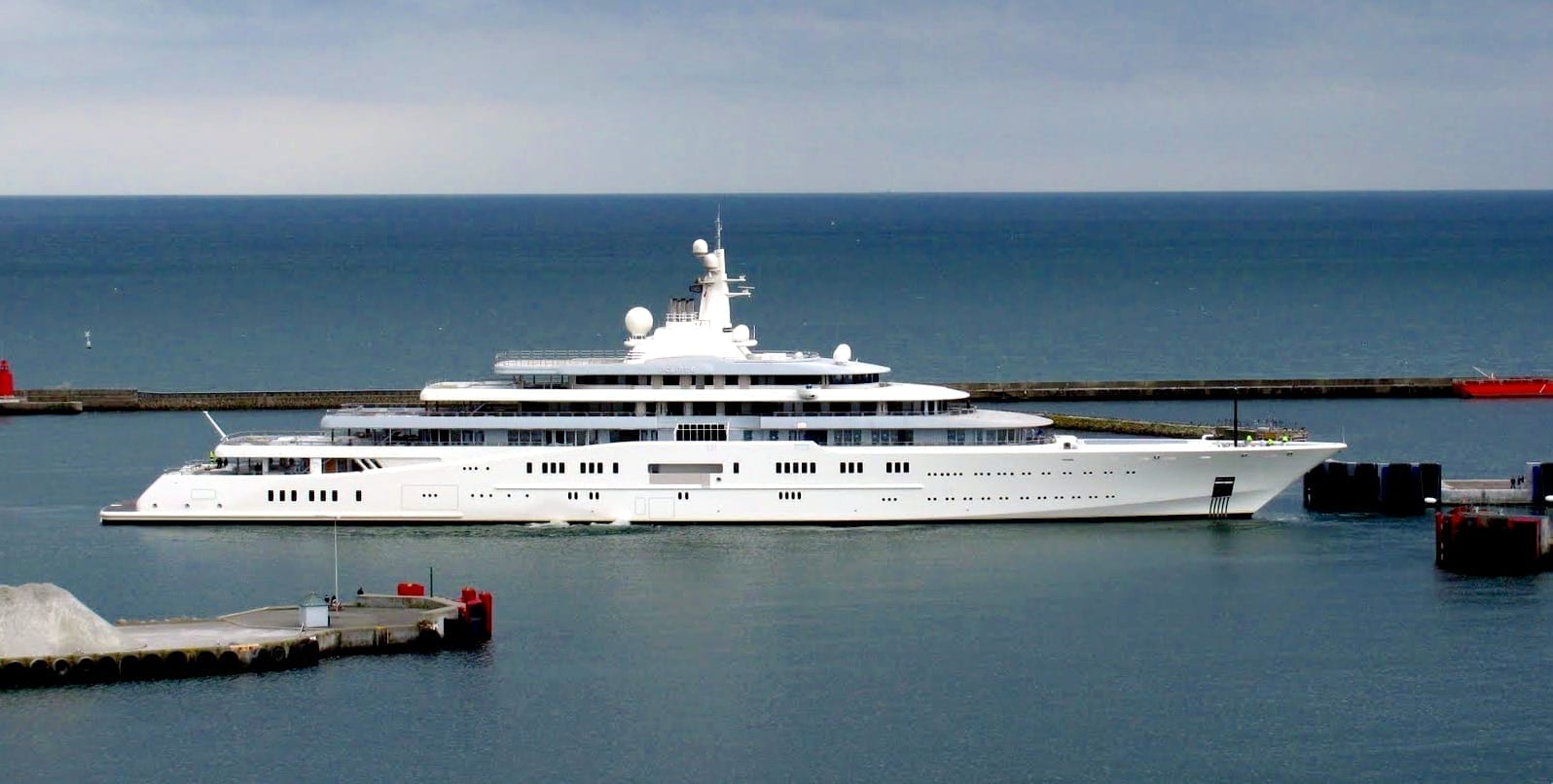 Image source: https://en.wikipedia.org/wiki/Eclipse_(yacht)#/media/File:MYEclipse-Frederikshavn-Denmark.JPG
Once the world's largest private yacht, Roman Abramovich's Eclipse is some 162.5 metres long, which now falls 17.5 metres short of Azzam. Even so, this is one impressive vessel – housing a 16 metre long swimming pool, the longest on any yacht, and an owner's deck that is some 56 metres long. Amazingly, she also has room for three helicopters – one on each of her two helipads and another in a storage hangar below deck.
Five years in the making, this mega yacht is powered by a diesel-electric propulsion system with rotating Azipod drives. Her breath-taking interior was designed by London-based Terence Disdale Design, who has been appointed more than 100 times to design yachts.
3. Dubai – 162 metres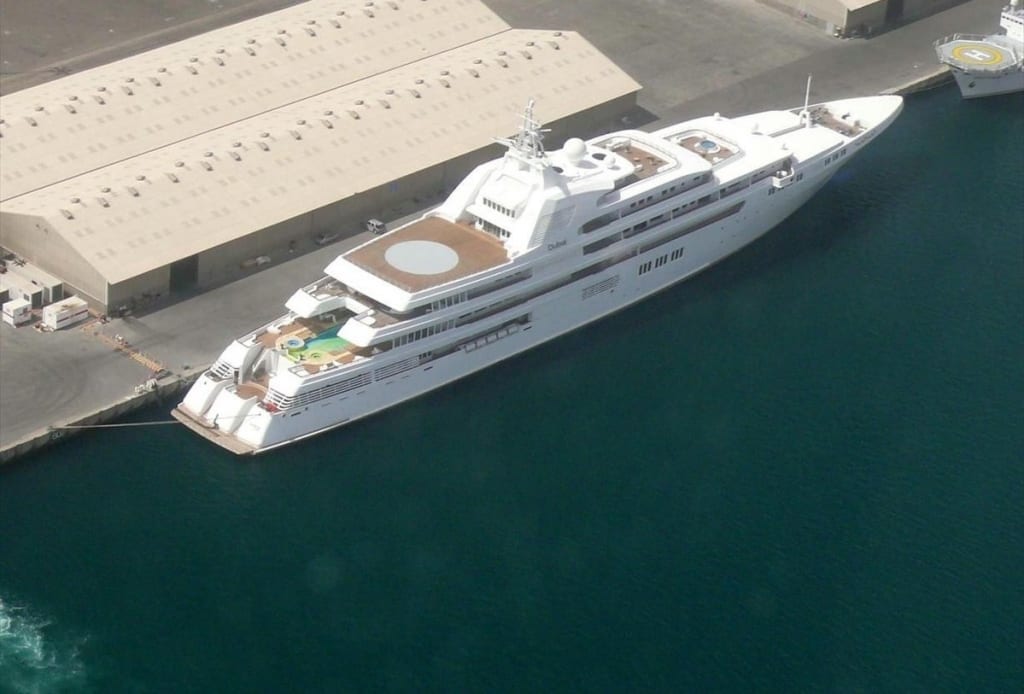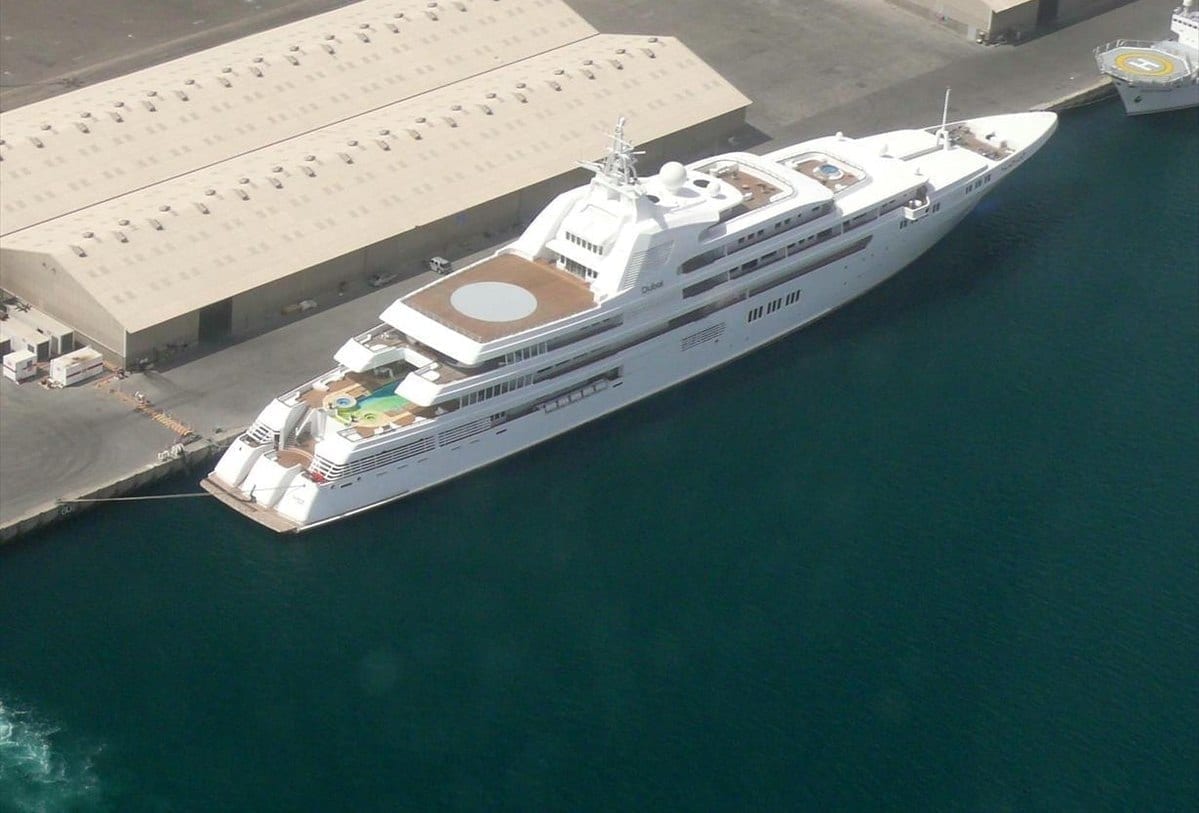 Image source: https://en.wikipedia.org/wiki/Dubai_(yacht)
Measuring just half a metre shorter than Eclipse, Dubai is the royal yacht of Sheik Mohammed bin Rashid al-Maktoum of Dubai – she offers some of the most luxurious accommodation imaginable. Designed to host 24 guests on top of those housed in her owner's suite, Dubai offers five VIP suites and six guest suites, each of which has its own open balcony allowing for quiet and peaceful moments.
Designed by Andrew Winch, this mega yacht's most striking feature could be her 21.3m wide atrium, and she also has enough on board entertainment to keep even the most discerning of occupants busy, including a swimming pool, barbecue area, cinema and its own discothèque. She also has a landing platform that's designed to fit a Blackhawk helicopter, and even comes with her own submarine, which is held in an on-board garage.
4. Dilbar – 156 metres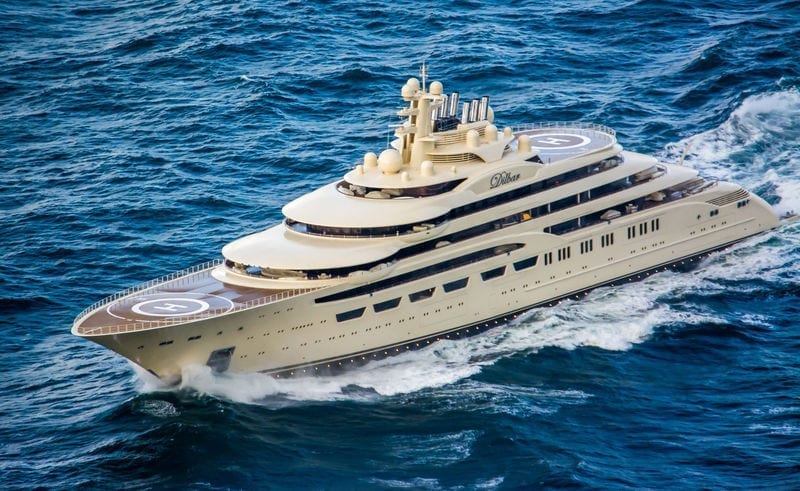 Image source: https://www.superyachttimes.com/yachts/dilbar
Although not the longest yacht – she falls short of Azzam by some 24 metres, the length of reasonably-sized charter yacht – with an interior volume that totals 15,917Gt (that's gigatonnes, one of which is equal to 1,000,000,000,000kg) she's still the biggest yacht in the world by gross tonnage. Owned by Russian billionaire Alisher Usmanov, Dilbar houses a 180 cubic metre swimming pool and 2 helipads.
5. Al Said – 155 metres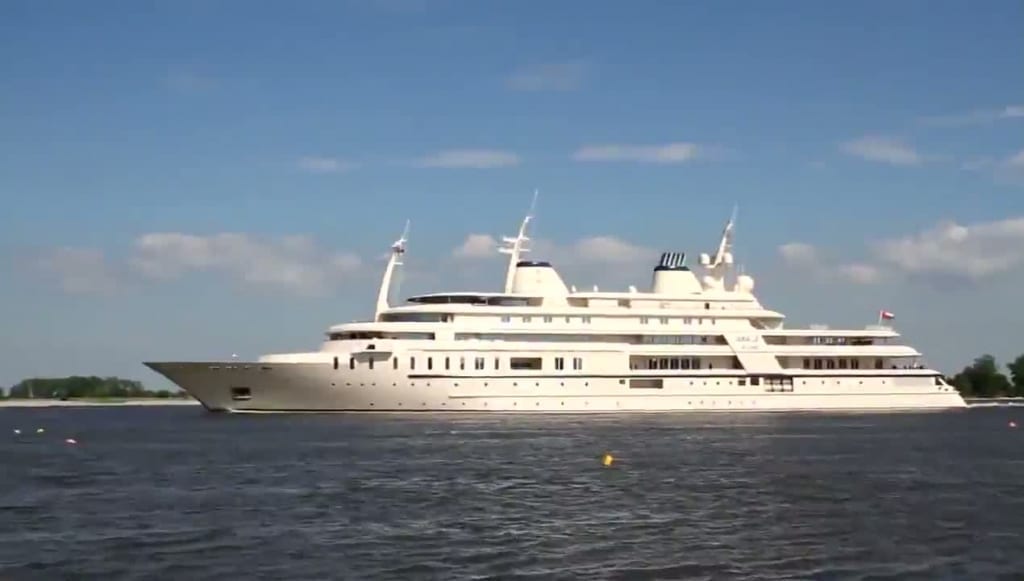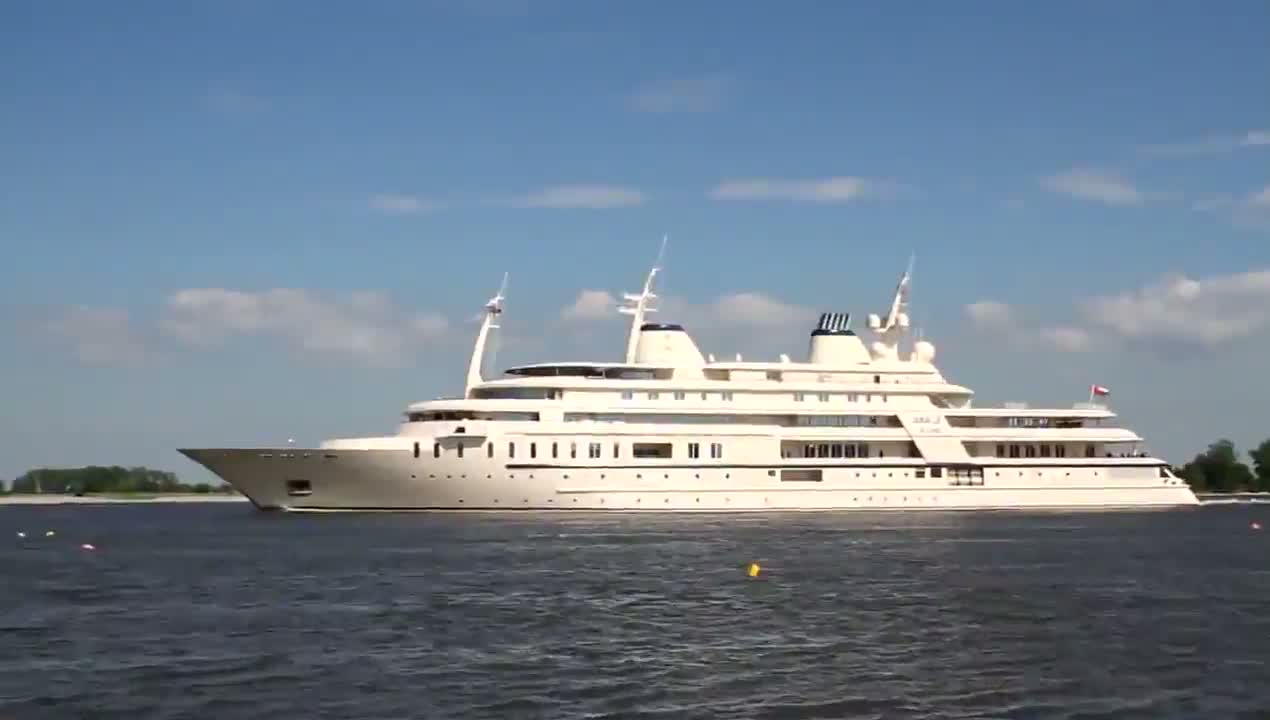 Image source: http://lifeluxuryandyou.com/al-said-yacht/
Although she's never been crowned the biggest yacht in the world, the 155 metres of the Sultan of Oman-owned Al Said made her the second largest when she was launched in 2007. Another of the Lürssen Yachts' stable, this super yacht offers room for up to 65 guests and comes complete with her own concert hall, which can house a 50-strong orchestra. A stroll along her six decks will see you stumble across a helipad and an on-board cinema. Her interior has been designed award winning Jonathan Quinn Barnett, also famous for having designed Coppola's infamous wine estate.
6. Topaz – 147.25 metres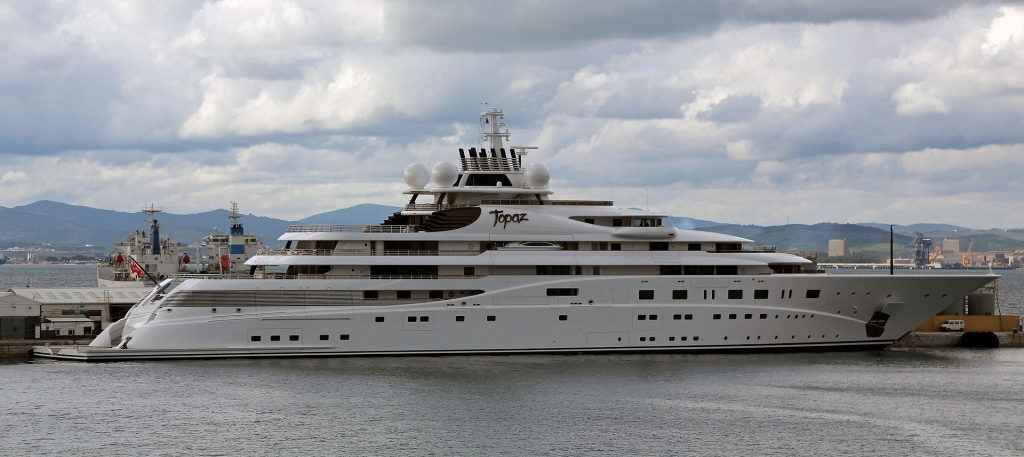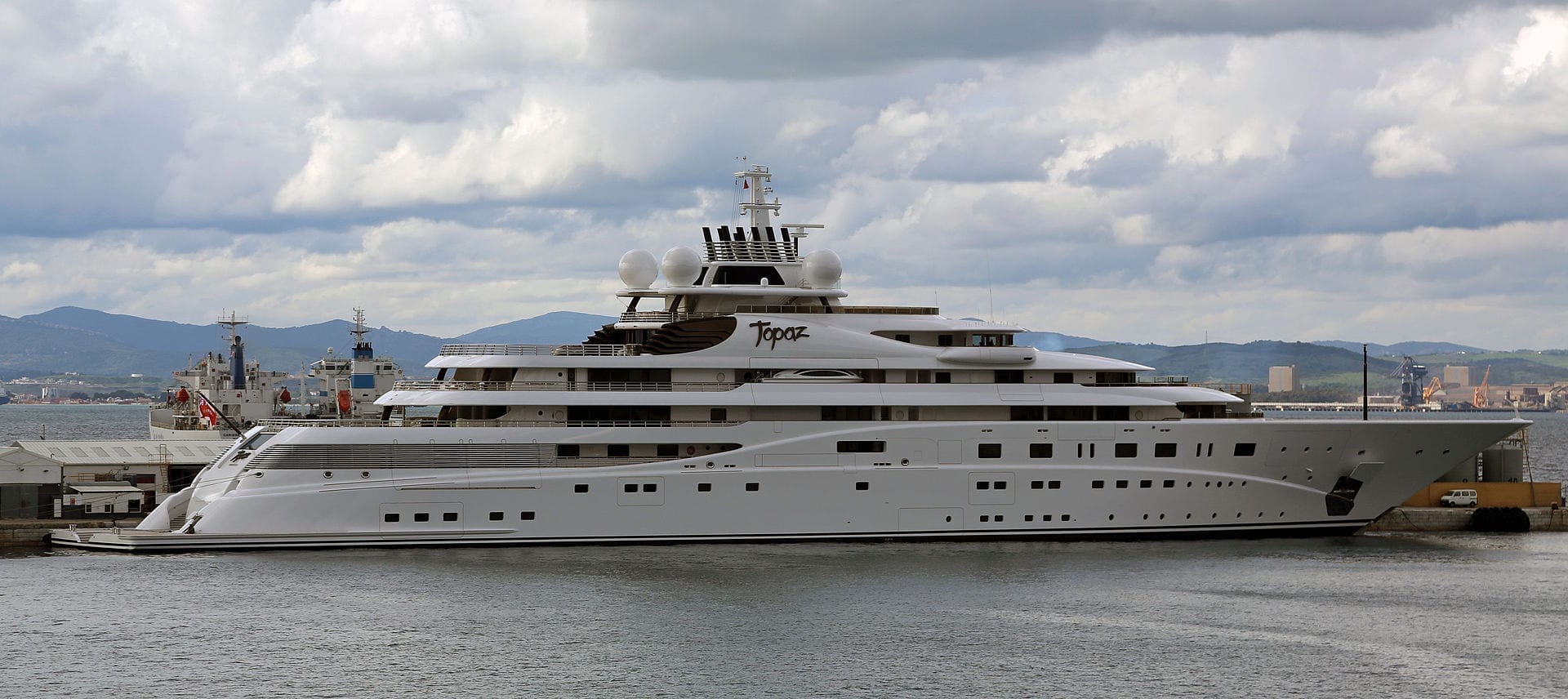 Image source: https://en.wikipedia.org/wiki/Topaz_(yacht)
A jewel among the sea of super yachts, very little is actually known about Topaz – although she sails under the Cayman flag, she is thought to be UAE-owned. The third largest to be launched by Lürssen Yachts, Topaz's stunning exterior was designed by Tim Heywood, whose signature is emblazoned on her side, and she features eight decks and the super yacht, standard issue helipad.
7. Prince Abdulaziz – 147 metres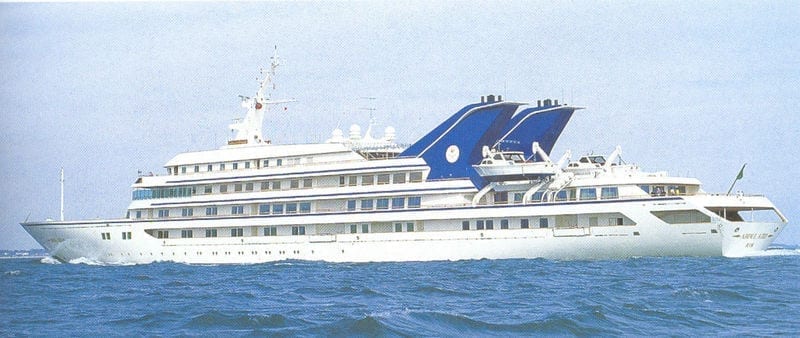 Image source: https://www.superyachtfan.com/yacht-prince-abdulaziz.html
One of the oldest on our list of huge yachts, Prince Abdulaziz was commissioned in 1984 to serve as the Royal Yacht for King Fahd of Saudi Arabia, but has since been inherited by King Abdullah of Saudi Arabia. Once inside, guests are dazzled by the colourful mixture of ancient and modern interior, designed by David Hicks, and the breath-taking, Titanic-inspired lobby on the main deck.
8. Sailing Yacht A – 142.81 metres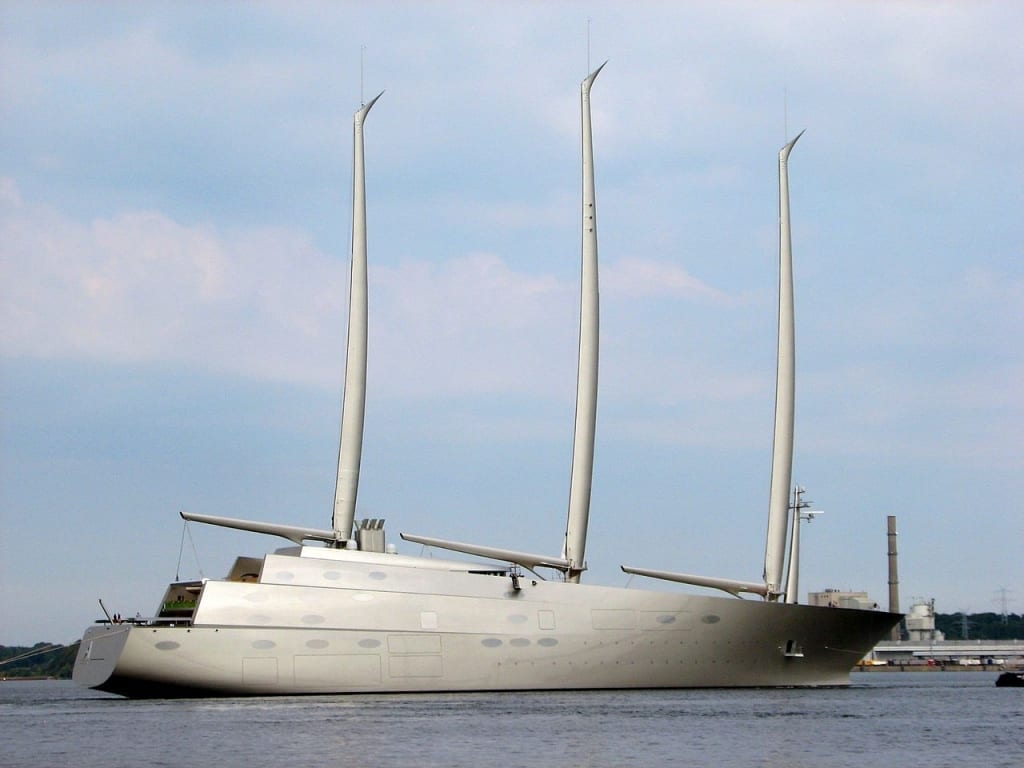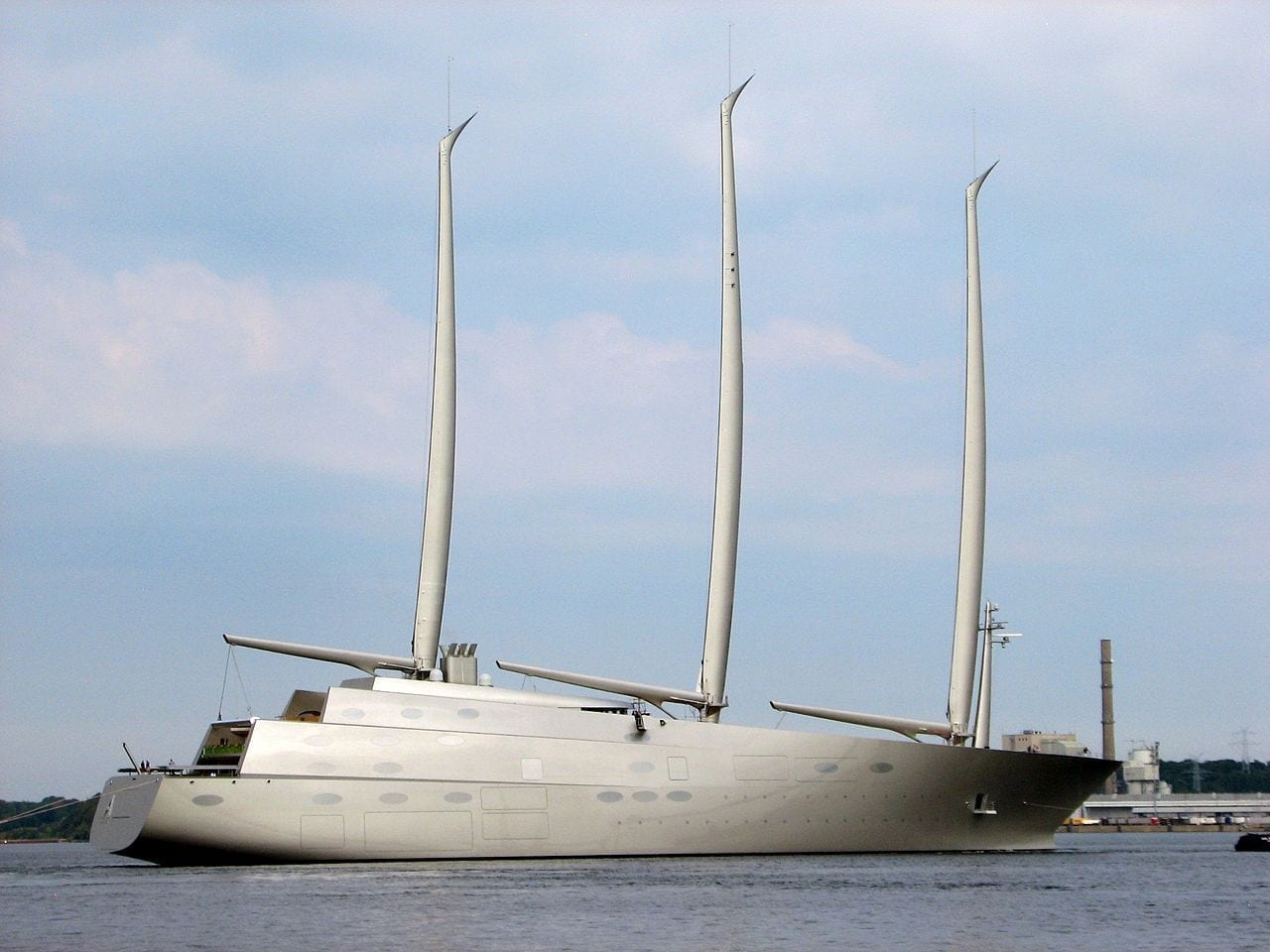 Image source: https://en.wikipedia.org/wiki/A_(sailing_yacht)
Arguably the most striking yacht to make the list, the Philippe Starck-designed vessel has an exterior that gives away no clues and an interior that very few know anything about. The outside is very distinguishable and if you were on the French riviera last summer you couldn't missed her outstanding carbon-masts, while little is known about her interior, one thing we do know is that it has an underwater viewing lounge – something to behold on board your super yacht rental.
9. Yas – 141 metres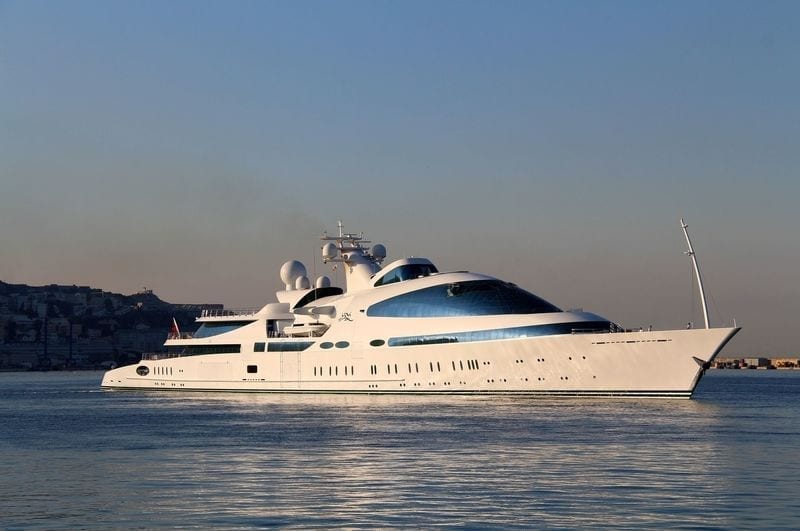 Image source: https://www.superyachttimes.com/yachts/yas
Yas has a very interesting history as a super yacht rental. Although she was officially launched in 2013, YAS actually crossed 40 decades, having been crafted from the hull of a 1978 navy frigate, which has been re-built and re-modelled using advanced composites and glass, and features a striking Pierrejean Design Studio of Paris interior, which offers luxury accommodation for 56 crew and up to 60 guests.
10. Ocean Victory – 141 metres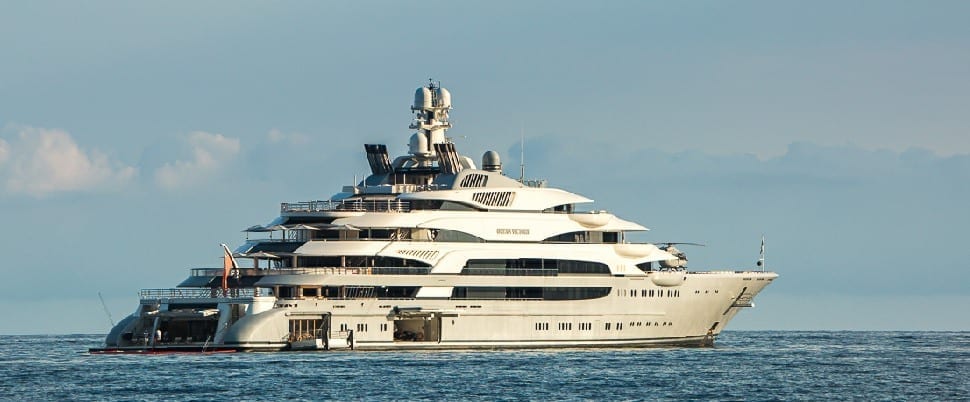 Image source: https://www.superyachtfan.com/yacht-ocean-victory.html
Another top secret yacht, very little is known about what is housed in Ocean Victory's 145.7m, other than it has six swimming pools of up to eight metres in length. You can be sure the interior is simply stunning though, having been designed by Alberto Pinto and Laura Sessa, and perfectly complements the seven-deck exterior that is based on a design by Espen Øino.
How to charter a yacht
Now that your appetite has been thoroughly whetted, why not charter your own yacht to sail some of the world's most stunningly luxurious destinations? Princess Charter offer a variety of yachts for charter across a whole host of destinations, ranging from 20 metres to over 100 metres in length.
To book your perfect super yacht rental, give our team a call 0207 499 5050, or email info@princessyachtcharter.com.