MY PRINCESS MAGAZINE - A Week in the Life of a Yacht Charter Captain
4th October 2022
MY PRINCESS MAGAZINE – A Week in the Life of a Princess Yacht Charter Captain
The reality TV show 'Below Deck' has caused quite a stir, supposedly a fly-on-the-wall show following a superyacht crew at work on charter.  We caught up with Captain Antonio onboard our Princess Yacht Charter M/Y Lemon Not Lime to find out what it's really like to be a Yacht Charter Captain.  Currently at anchor in Palma Nova, Mallorca in the beautiful Balearics and on charter with four guests – Captain Antonio had just finished assisting the Chef with loading fresh provisions on board…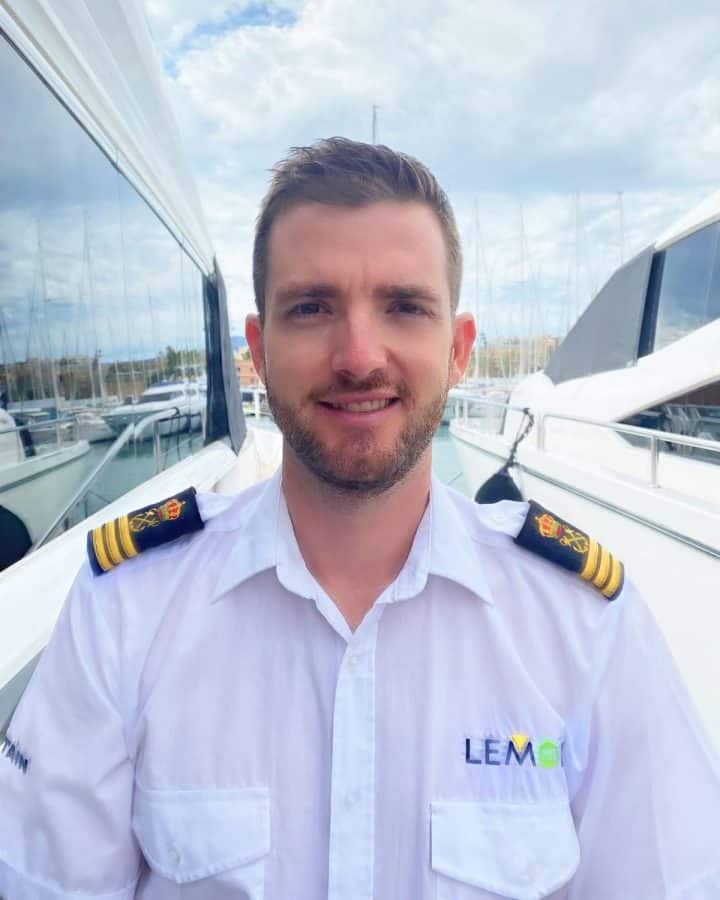 How long have you been a Yacht Captain?
'I've been a Captain for 14 years and was previously a Marine in the Spanish Marine Corps that took me all over the world, including being deployed to Bosnia.  I started my training to become a yacht captain with the RYA 'Day Skipper' qualification.  I then started working for a small charter company and went on to gain my 'Yacht Masters' qualification, and 6 years ago I got my 'big ticket' with the Spanish Merchant Navy – the Master 1600gt and Officer of the Watch Unlimited.  I've worked for Princess Motor Yacht Sales since April but I've previously captained many different Princess yachts.'
Tell us about your charter yacht M/Y Lemon Not Lime?
'She's a 2018 Princess 75ft motor yacht.  I've worked on board Princess yachts throughout my career and they are lovely boats.  We are based in Palma, Mallorca, and cover the Balearics including Ibiza, Mallorca, Formentera and Menorca which offers great diversity for cruising.  She is perfect for families or groups of friends as she has 4 guest cabins sleeping 8.  We have a Williams 395 tender on board which is awesome for wakeboarding, water skiing and towing toys – for those seeking adrenalin-filled watersports.  We also have Seabobs, snorkelling gear, 2 inflatable paddle boards, and fishing equipment.'
How do you prepare for a charter?
'I receive a preference list from the Princess Yacht Charter office in Mayfair.  It tells me everything I need to know about the lead guest and their family and friends joining us on board.  When we learn about their likes and dislikes such as what they would like to see and do, which Balearic Islands they prefer, if they enjoy water toys and very importantly – the food, especially any allergies, it helps us create a bespoke yacht charter.  Sometimes guests book a charter to celebrate a special occasion such as birthday or anniversary so we like to prepare something super special in advance.'
What happens when guests arrive?
'Our charter guests arrive at midday on the first day and we all get changed into our white uniform with epaulettes 'bars', ready to receive them.  I do the introductions and give them a tour of the yacht from the cabins to the flybridge, a full security briefing and the dos and don'ts including how to use the heads 'toilets'!  I also check if they can swim and if anyone suffers from seasickness.  I run through the schedule with them – they would have already seen this in advance based on their preferences – and check it against the latest weather forecast.  Sometime I need to amend the itinerary slightly due to the weather.  Sometimes it seems fine within the marina but outside it may not be suitable to do some of the things we had hoped and planned.'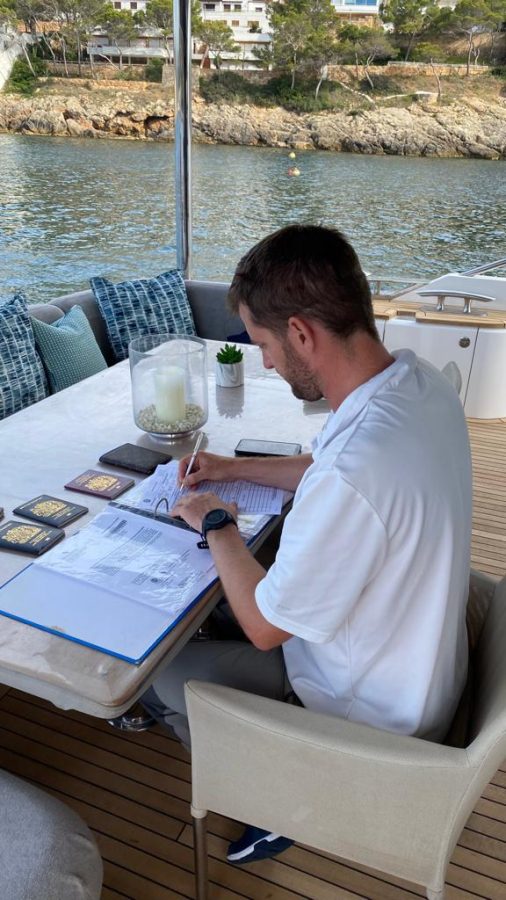 Could you give me an example of a typical charter week itinerary?
'One of my favourite itineraries is cruising around my home island of Mallorca.  Guests enjoy a different port every evening so they see a variety of stunning views and scenery.  Depending on the guests' preferences, they often enjoy the variety of watersports available on board and I drive them to secluded coves and caves in the tender – it's great to experience unique spots that the big boats can't get to.  I also run them over to the shore for restaurant or excursion bookings.'
What does your role involve when you're on charter?
'Well believe it or not, driving the boat is the small part of my overall role!  I'm in command of the ship which carries huge responsibility and it's a very demanding job as the safety and well-being of the guests, crew and the boat are all on my shoulders.  We have a Chef and a Stewardess but for this size of yacht we don't have a dedicated Engineer or Deckhand so I wear many hats.  Yes, I drive the boat but I also take care of any technical issues such as engineering, electrics, generators, engines, bathing platforms, toilets and even keeping the exterior of the yacht spotless.  As I'm local to Mallorca and know the Balearic Islands very well, I can also provide recommendations of what to do like a guide and I make bookings such as restaurant reservations.  It helps to be local and kind so that I can book berths for the yacht and table reservations that are extremely sought after!  I have a lot of great contacts, which enables me to procure special food and wine too, and they deliver directly to the yacht if necessary. It's always best to have a local Captain with local knowledge and a powerful network of contacts.'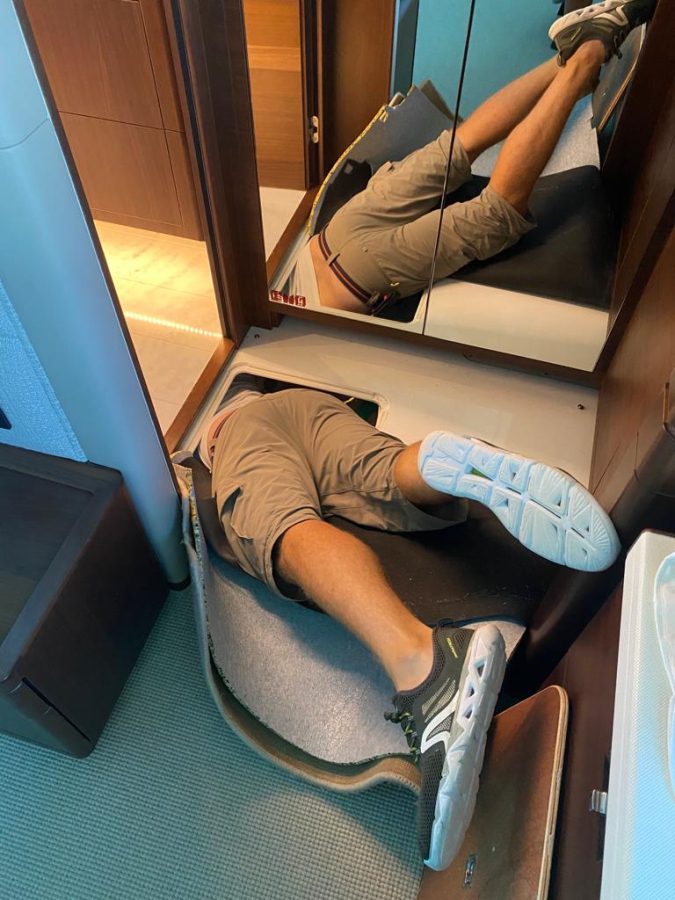 What hours do you work?
'You can't count the hours! Its 24/7. I work 7 months for the busy summer charter season and then 4 months in the winter with the Spanish Military commanding a platoon of up to 18 soldiers, and also training new recruits, with different exercises all over Spain, as a Staff Sergeant in the Spanish Army Active Reserve.  It's nice to have the variety.  In the winter I live in my house in Mallorca but I'm always on call if I'm needed on board too.'
What happens on the last day of charter?
'We refuel with the guests still on board as that's all part of the APA (Advanced Provisioning Allowance) expenditure.  And when we are back at the marina, I sit down with the lead guest and run through the excel spreadsheet of costs for things like fuel, excursions and restaurants etc.  I pride myself on taking good care of the APA by running the yacht efficiently especially when it comes to fuel.  We say our 'goodbyes' and as soon as the guests leave the boat, we start a thorough clean of the entire yacht from cabins to galley and water toys to the exterior.  Sometimes we only have 24 hours to prepare for the next charter so we employ dayworkers as there is too much to do for 3 people.'
Can you tell us the best and most tricky part of your job?
'It's sometimes a lot to handle, especially having a variety of roles on board to juggle that the guests don't see.  You have to remain calm, resolve any unforeseen adjustments to the itinerary or attend to technical issues behind the scenes whilst still being super happy and full of energy in front of guests even though you may feel a little tired at times.  But I love how rewarding it is when the guests are having a fantastic time and they really appreciate what we do for them.  You build a nice connection with them and at the end of the charter they tell you how happy they are.  When they've had a great time and everyone is back on the dock safe and sound, and they've given fantastic feedback to the office or the owner, it's a very special feeling of pride and reward.  And I really like it when they occasionally send me a message.  We have a lot of loyal clients who come back time after time, and they often tend to like to do the same trip – circumnavigate the island of Mallorca in 7 days!'
What is most difficult about your job?
'The boat is my life.  Its 24/7, even when I'm asleep, I'm listening for the engine and the generators and all the other odd sounds.  It's all part of the responsibility of the boat, the guests and the crew.  And while I'm working the charter season I can't plan or partake in my personal life such as attending special occasions with family and friends like birthdays and weddings.'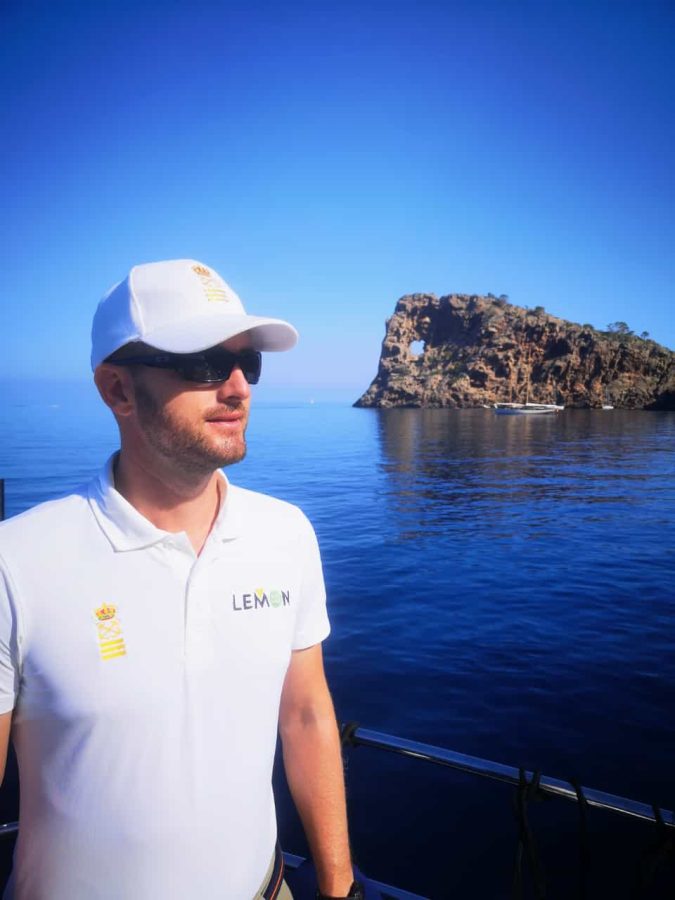 What do you love most about your job as a Yacht Captain?
'Making people happy.  I'm part of the best moments of people's holidays.  Guests remember me for my energy and helping them have an amazing time.  After the charter, they message me now and then, send me photos and 'Merry Christmas' messages.  Guests can sometimes be demanding but the positive feedback is incredibly rewarding.  When you spend up to two weeks together you build friendship and trust.  And as crew, we always go the extra mile – guests have my mobile number in case they need me while they are ashore too, they can call me anytime.  The safety of the guests, crew and the boat is my priority.  As a Yacht Charter Captain, making people happy is the best job in the world!'
Find out more about Princess Yacht Charter M/Y Lemon Not Lime.