A Luxury Superyacht Charter
19th July 2021
Discover a luxury superyacht charter
Luxury yacht charter at any point in the size and price bracket can feel like a rare and special experience. But if you want to push the envelope with a luxury superyacht charter that takes elegance and sophistication to its most sublime and perfect form, there are now some amazing options. From intimate sub-100 foot semi-custom yachts to one-off 400-foot megayachts with helipads, submarines and on board spas, the sheer scope of modern design is mind-boggling. So what kinds of features should you look out for? What kind of yacht should you choose? And, with yacht charter destinations as diverse as Britain, Spain, Greece and Croatia, where should you think about going? Here at Princess Yacht Charter, we have access to the world's finest yachts, the world's best destinations and the world's most knowledgeable yacht charter brokers. That puts us in the perfect position to shed a little light on what you can expect at the most exclusive end of the luxury yacht charter market.
Superyacht toys and tenders
Picking a yacht with the right selection of toys and tenders can radically expand your cruising grounds and add a fresh dimension to your holiday. While most yachts are of course equipped with a selection of toys that are tailored to the waters, the climate and the activities of the local cruising grounds, it's still worth making sure your favoured yacht provides everything you need. For instance, sunny, well-established family resort regions are often well set up for a range of watersports, so it pays to have a powerful tender, plus PWCs, wakeboards, water skis and towed inflatables. In regions defined by protected marine landscapes and national parks, SUP boards, sea kayaks and snorkelling gear are often much more valuable assets. Similarly, if you're in a region with deep clear waters and prolific sealife, then even on a small yacht, seabobs and snorkel gear can bring a fresh dimension to your experience. And if your budget is larger, you can even look for a yacht with subsurface viewing panels, an onboard submarine or a full complement of SCUBA gear, plus a dive instructor and a decompression chamber. And while we're on the subject of the biggest, most exclusive charter yachts, it's tough to overestimate the value of a helicopter. In addition to delivering you to the local yacht club for an evening meal with the utmost speed and panache, a helicopter can also introduce a superb range of outdoor pursuits to your charter experience – like climbing, hunting, remote wilderness hikes and (in places like the French Rivera) even skiing.
Superyachts and crews
There are certain elements of the luxury superyacht charter experience that are more to do with a yacht's inherent design than with its fleet of toys. For instance, you can now charter a yacht with an on board cinema or with a fully equipped spa boasting cutting edge treatments like wet and dry massage rooms, Turkish Hammams, cryo-saunas and even hypobaric oxygen treatments. In addition to vast beach clubs that help optimise your access to the water, you can also request private balconies, viewing platforms, Jacuzzis and swimming pools. But while you're considering the merits of the charter yacht itself, it's equally important to think about the crew. Do you want a crew that is youthful and engaging or slick and discreet? And what about the profile of the crew's talents and abilities? Do you want a celebrated on board chef? A powerboat instructor? A dive instructor? A sailing instructor? Perhaps you want a specialist events organiser who can provide impromptu treasure hunts for your kids? Whatever you have in mind, booking a yacht with a crew profile that matches your personality as well as your practical requirements is a really key step in devising the perfect yacht charter package.
Outstanding charter destinations
While the Balearics and the French Riviera remain at the very pinnacle of the European superyacht charter scene (and with good reason), the quality, variety and flexibility on offer in the eastern Med is superb. For instance, with 9,000 miles of coastline and 2,000 islands, alongside some fabulous standalone destinations like Athens, Mykonos, Santorini and Rhodes, a Greek yacht charter has the capacity to thrill in a way that very few destinations can match. And the Cyclades archipelago, in the southern reaches of the Aegean Sea, between the Greek mainland, the Turkish Riviera and the northern shores of Crete, is arguably the most perfect Greek yacht charter destination of them all. With picturesque old harbours, deserted coves and chalky, whitewashed villages nestling among vineyards, olive groves and classical ruins, there's no doubt that a week's charter from Athens is one of the world's most satisfying luxury yacht charter itineraries you can experience.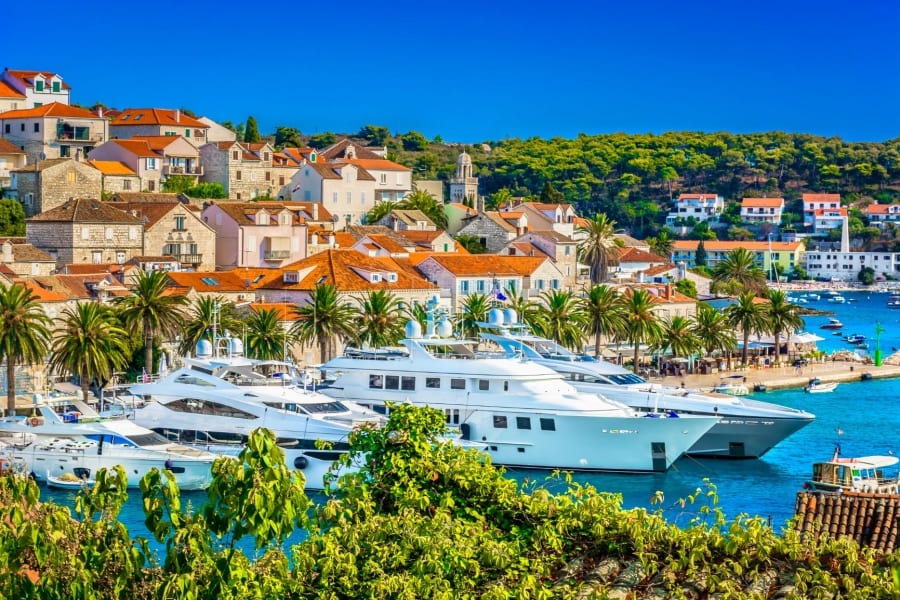 Remarkably though, Croatia is in many ways the equal of Greece. The country's Adriatic coastline, which runs around 300 nautical miles between Slovenia and Montenegro, comprises countless ranks of islands, outcrops and landmasses, making it the perfect playground for charter yacht exploration. Whatever the conditions are doing, there is always a place to find shelter – and however 'peak' the season, there is always another cove, bay or anchorage that will make you feel like you're entirely alone in the world. Throw in a near-perfect climate, plus some of the world's most spectacular UNESCO towns and cities (including Split and Dubrovnik), and you have all the ingredients for a luxury superyacht charter that makes many more famous destinations feel a bit run-of-the-mill.
Optimise your yacht charter plan
At Princess Yacht Charter, we are a well-established company with an extensive network of bases and a varied international fleet. When you call us, we go to extraordinary lengths to create your perfect yacht charter package – and it all starts with your own dedicated charter broker. We allocate you a seasoned charter expert who will discuss your favoured destinations and timings, before delving into a range of more detailed issues like the ages, profiles and personal preferences of you and your guests. Whether you want a holiday defined by child-friendly activities, water based sports, boutique shopping, cultural exploration, A-list events or private beach barbecues, your personal broker will help you devise a plan to deliver it. You can then relax, safe in the knowledge that our team of in-house professionals will remain on hand to provide advice and assistance 24 hours a day, not just before, but during and after your yacht charter too.