Charter Britain's Beautiful Southern Coast
29th June 2021
Plan the ideal seaside getaway in the England's south coast
You don't have to venture far to find your own corner of yachting heaven. Whether it's water sports on wide stretches of open water or pastoral cliff views and pretty seaside towns, England's wonderful South coast neatly encapsulates it all. Following the 20-mile-long stretch of the Solent, which reaches from Barton-on-Sea to Portsmouth, you will uncover a wealth of recreational and cultural attractions for a memorable luxury yacht charter. That's the beauty of this area. There's a rich diversity of destinations, so conveniently close together, that are bound appeal to everyone in your group.
You have buzzing Poole, attracting active jet-skiers, powerboaters and wave-boarders, neighbouring the exclusive playground of the rich, Sandbanks. Then off the coast on the Isle of Wight, there's the yachting mecca of Cowes, put on the map thanks to the world-famous Cowes Week and the Round the Island Race, which attracts 16,000 sailors.  It is a region that is steeped in maritime history wherever you look. A fascinating couple of hours can be spent immersing yourself in Britain's rich naval past, wandering the cobbles of Portsmouth's historic dockyard, gazing at a collection of warships that include the famous Tudor wreck of the Mary Rose along with Nelson's flagship HMS Victory.
Spectacular natural wonders in abundance
Stretching eastwards for 95 miles along the coast from Old Harry Rocks, Swanage to Exmouth, Devon, is a marvel of history of a natural kind.  Fossil hunters come from far afield to the beaches to step in the footprints of dinosaurs, as this is world heritage protected Jurassic Coast territory. Lyme Regis is where many visitors are drawn. Home to a museum and fossil hunting walks it sparks many a child's imagination. There are many great beaches around here, looking out to the Solent, including Hill Head Beach, near Fareham, Hampshire, a popular one for windsurfing and kitesurfing. Lepe Beach sited in an Area of Outstanding Natural Beauty is particularly photogenic, offering relaxing coastal walks surrounded by pine trees and wild flower meadows.
Close to Swanage and Poole, Studland Bay offers a choice of four stunning beaches that are lined with extensive heathland and undulating sand dunes. Knoll Beach, popular for watersports activities, is also a great spot to embark on woodland trails, keeping an eye out for sika deer, woodpeckers and butterflies. If you love escaping to nature, a visit to Brownsea island is highly recommended.  Combining many habits including cliffs, woodland, healthland and salt marshes, red squirrels roam its peaceful surroundings and a variety of birdlife flock to its lagoon. The island is also significant as being where the Scout Movement first set up camp in 1907.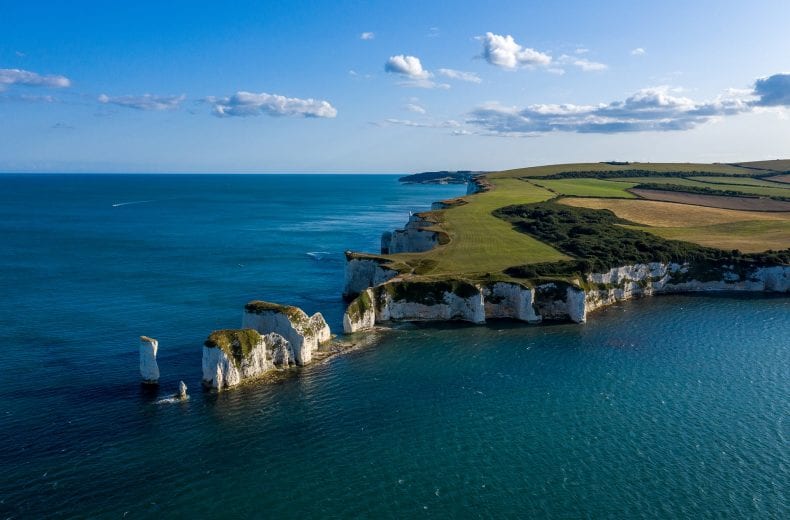 As you edge your way along the coastline of Southern England from the waters of the Solent and into the county of Dorset you can encounter many pretty coves and quirky geological features. One unmissable sight is the limestone arch of Durdle Door that juts into the sea near Lulworth Cove. It's not just blessed with natural beauty but offers fun activities for all the family to enjoy including coasteering, rock-pooling, water sports and walking. If you head to the low waters of the central Solent and catch the receding tide at the right time you can discover an arrow-shaped sandbar emerge from Bramble Bank, also known as 'The Brambles'. The spectacular location is where Royal Southern Yacht Club (RSrnYC) and the Island Sailing Club gather each year to play a game of cricket.
Heading further afield and tracing the coastline of The Isle of Wight you can uncover many tranquil spots to drop anchor and explore. For instance, off the northeast coast is the restful Priory Bay at Seaview. Near to the tiny village of Nettlestone, the 600m long stretch of golden sands backed by woodlands is a haven for escapism. The remarkable multi-coloured pastel-hued rocks of Alum Bay presided over by the landmark Needles lighthouse is a spectacular sight to see from the waters of your yacht. Better still enjoy a swim in the waters of this stunning setting for the best vantage point. Another unique landscape emerges at Newtown Creek, in the shape of a salt water estuary forming part of a national nature reserve.  The Creek and its surrounding branches offer one of the most natural and unspoilt anchorages you will find. What better place than to enjoy peaceful solitude with nature.
Quaint towns & family friendly seaside resorts
There is also a pleasing contrast to the wilder parts. Taking a yacht charter around the Solent, you will be not far away from a town or city, providing you with a chance to soak up a bit of local culture in museums and enjoy the hospitality at numerous pubs and restaurants. Lying between Southampton and Portsmouth, the Georgian market town of Lymington has the best of both worlds.  Coastline and woodland fringes of the New Forest come together here, providing a relaxing place to visit. Furthermore, with excellent marinas attracting a strong sailing community, it provides a handy base from which to explore the western Solent area from Poole to the Isle of Wight.
No visit to this part of the British Isles is complete without sampling the traditional bucket and spade appeal of perennial seaside resort favourites such as Bournemouth and Weymouth. Bournemouth boasts seven miles of sandy beaches, 2000 acres of parks and gardens dating back to the Victorian era, as well as popular seaside attractions including theatres, an aquarium and a pier. Its smaller cousin Weymouth is on a less grand scale but nevertheless equally appealing with its charming Georgian seafront, clean sandy beach and nearby historic Nothe fort.
Building your dream Solent yacht charter
Altogether a Solent yacht charter around the south coast of England evokes the perfect carefree feeling of yacht cruising. It can be as laid-back and action-packed as you make it. Just give our friendly team a call on +44 (0) 207 499 5050 or email us at info@princessyachtcharter.com and we will put together your dream itinerary.
Taking a jaunt in a yacht to these shores you will naturally want to luxuriate in the best home-from-home comforts. The motor yachts we offer, bring the ultimate in sheer relaxation, allowing you to make the most of your trip. Princess Y85, TOR is conveniently based at the Swanwick Marina in Southampton. The 21m-long Princess Euphoria, is also available to charter hire from Salterns Marina, Poole. Discover more about chartering a yacht in the UK.