Luxury Charter UK: Chartering a yacht in Britain
25th March 2021
Luxury Charter UK: chartering a yacht in Britain
Luxury yacht charter guests keen to experience something more remote and tranquil than the Mediterranean's well-trodden yachting hubs tend to look in one of two directions. Either they head east towards Turkey, Greece and Croatia or they look north in search of the glacial majesty of Norway's fjords, the elegant heritage of Copenhagen or the lake-strewn wilderness of Sweden. But how about a luxury charter in the UK? What about the deep-cut estuaries and picturesque inlets of England's West Country? The historic playgrounds of the Solent? What about the iconic sights of maritime London or the fractured oceanic sanctuaries of Scotland's whisky-drenched western isles? While it might not enjoy a global reputation as a luxury charter hub, Britain is unquestionably one of the most diverse, exciting and historic yachting destinations in the world.

Luxury Charter UK: the West Country
Cornwall and Devon offer a deeply satisfying cruising experience. While the northern coastlines are exposed to the Atlantic swells, creating excellent conditions for surfers, the southern coastline is a perfect playground for luxury charter. Positioned in the far west of Cornwall, Falmouth is one of its highlights. Once the UK's premier seaport, this irresistibly salty old town is now home to the National Maritime Museum, a famous oyster festival, some great beaches and a vast array of cruising possibilities, including the wild and beautiful Scilly Isles. The estuary is long, deep and impressively varied, with plenty of offshoots where pretty waterfront pubs happily coexist alongside large-scale commercial shipping – and the vibrant town is also blessed with lovely landscapes, great fishing and a range of waterfront pubs where you can tie up your tender and feel like there's nowhere else you'd rather be.
Further east, the pretty Cornish seaside town of Fowey is another glorious stop on any luxury charter itinerary. Famed as the inspiration for Kenneth Grahame's 'Wind in the Willows' and repeatedly ranked as the UK's most desirable place to live, its narrow streets and pretty buildings tumble down a quietly buzzing waterfront. Restormel Castle, the medieval town of Lostwithiel and the famous St Austell Brewery are all nearby – and the neighbouring ports of Charlestown and Looe offer plenty more cruising fun.
Across the border in Devon, the coastline from Salcombe up to Brixham is also particularly lovely. At the heart of this area of outstanding natural beauty sits the town of Dartmouth, where you will find a long and lovely estuary featuring everything from castles and vineyards to pretty villages and boat-friendly pubs, as well as steam trains and historical boathouses. And while Dartmouth and its immediate cruising grounds have plenty to keep you entertained, it also functions as a handy departure point for a visit to Torbay or even for a trip south to the Channel Islands.
Luxury Charter UK: the Channel Islands
The Channel Islands enjoy deserved renown in yachting circles. With no cars, no crowds and no need to rush, Herm and Sark are famously tranquil getaways for secluded walks and isolated anchorages. Guernsey itself provides plenty of opportunity for exploration from St Peter Port. And the historically besieged island of Jersey could easily cater for a week of relaxed cruising in its own right. It has a vibrant events calendar, excellent boating facilities and a tangible sense of 'French-ness' in the food, the architecture and the alfresco café culture. Local highlights include the German War Tunnels, the Atlantic surf beach at St Ouen's Bay, the famous Gerald Durrel Zoo and the wine tasting tours at Le Mare Wine Estate.

Luxury Charter UK: the south coast
As the hub of the UK boating scene, England's south coast is littered with unique and memorable attractions. Jammed between the Isle of Wight and the mainland, the Solent is a complex and contradictory place of commercial shipping, military might, urban entertainment, natural beauty and intimate hideaways. From the Needles in the west to Portsmouth in the east, it offers every form and flavour of yachting experience you could want, and all with very manageable cruising distances.
Further east, Brighton and Eastbourne make an eclectic pairing for upbeat seaside entertainment – and if you like to combine gruff maritime heritage with modish sophistication, the Kentish resort towns of Margate and Whitstable have picked up deserved reputations as cultural hubs for elegant urbanites and touring celebrities.
Head on up the Thames and you will find that, in addition to being one of the world's most dynamic cities, London is also a stupendous yachting destination. With its location on the banks of the tidal Thames, it remains a coastal city and it continues to feel that way. While it offers all the iconic big-ticket attractions you could want, it is also rammed with sites of huge historical and maritime significance – not to mention some memorable waterfront pubs, like the dark and lustrous 'Grapes' at Limehouse Marina, once frequented by Charles Dickens and now owned by none other than Sir Ian McKellen.
Luxury Charter UK: Wales
With its access to north Devon, the west of Ireland and the Isle of Man, Wales is another rich and varied cruising destination. While visitor hotspots like Abersoch, the Menai Strait, Cardiff and the Gower Peninsula are all well worth a visit, the west Wales coastline from Tenby round to St Davids is particularly enjoyable. At its heart sits the Milford Haven Waterway – the largest estuary in Wales and one of the deepest natural harbours in the world. Set within the Pembrokeshire Coast National Park, it offers many towns and tributaries to explore, as well as the pleasantly wild islands of Skomer and Skokholm.
In addition to its sealife and its glittering boatbuilding heritage, this region also offers plenty of cliff-top walks, secluded beaches and sheltered, sport-friendly bays. And if you want to drop the pace and take it easy, why not visit the Old Point House at Angle? Perching on the sheltered edge of a C-shaped inlet, right on top of the Pembrokeshire Coast Path, this remote whitewashed freehouse has been a mariner's watering hole for more than 500 years – and with Welsh beers, local seafood and its own pub jetty, it's the perfect place to tie up and settle in for the weekend.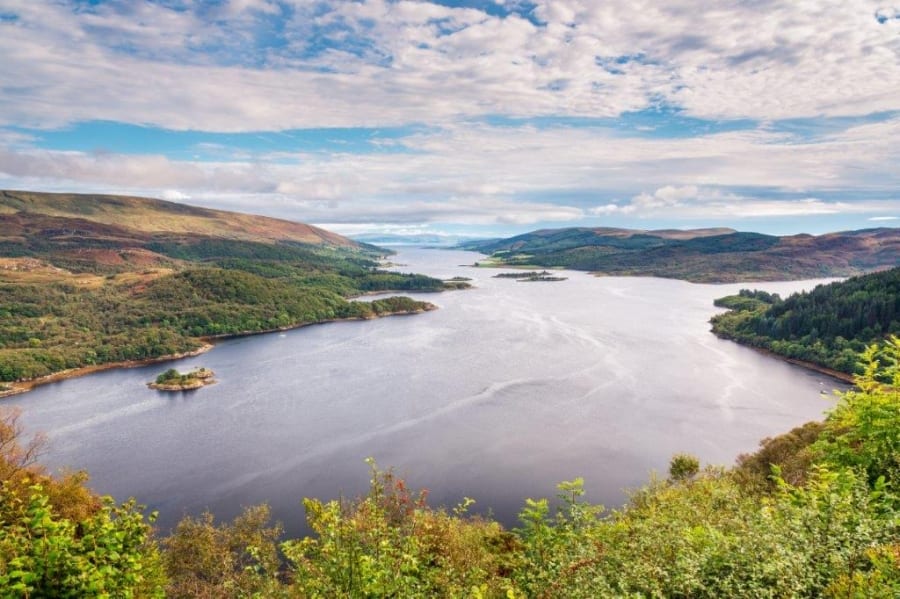 Luxury Charter UK: Argyll & Bute
Argyll covers an extensive section of Scotland's midwest coast and, from the Mull of Kintyre in the south to the Hebridean Isle of Coll in the north, it is littered with islands and plunging outcrops of rock. With its rich military, cultural and commercial past, the extraordinary proliferation of shipwrecks makes it a great place for diving – and the ease of access to Atlantic wildlife is also a major draw. Regular visitors include whales, dolphins, seals, porpoise, basking sharks and otter, as well as white-tailed sea eagles.
But for many, the region's outstanding highlight is Islay. From here, you can seek out the ferocious bottleneck flow of the Skerries, you can ride the oceanic swells or you can investigate the sheltered waters between the region's maze of landmasses. With no fewer than eight distilleries, this island offers some great opportunities for a world-class whisky tour. But with the magnificent city of Glasgow just up the Clyde and the dramatic coastline of Northern Ireland a short hop south, it's also a far more textured cruising destination than most people imagine.