Yacht Charter in Leeward Islands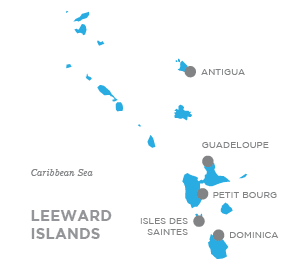 Yacht Charter the Leeward Islands, made up of Anguilla, Saba, Sint Eustatius, St Kitts & Nevis, Antigua & Barbuda are a glimpse into a historic past that has captured the hearts and imaginations of explorers, traders, mavericks and treasure hunters of all kinds for centuries, one visit and you will quickly understand why, this is a destination that calls out the inner voyager to go and explore.
South the Virgin Islands, this dreamy white sandy beach paradise is a location where you will take for granted all of the activities to explore in favour of a sunlounger but our advice is, why not do both. Rainforests, volcanic peaks, tropical fish and coral reefs all beckon you like sirens in the night whilst the allure of just sitting back and enjoying local rum delicacies, barbecues and beach time parties with reggae bands can be the alternative to the adventurer inside.
This is the Caribbean unplugged, and what better way to enjoy it than on a chartered yacht.
Why do you need to charter a yacht in The Leeward Islands? Let's take a closer look.
What to see on a trip to The Leeward Islands?
Spanning some 300 miles, the Leeward Islands invite you to discover what a true tropical paradise can be. From lush green mountains to water as clear as the eye can see, here in the Leeward Islands you will discover that there is more than meets the eye.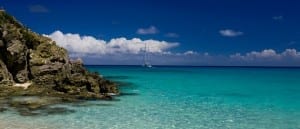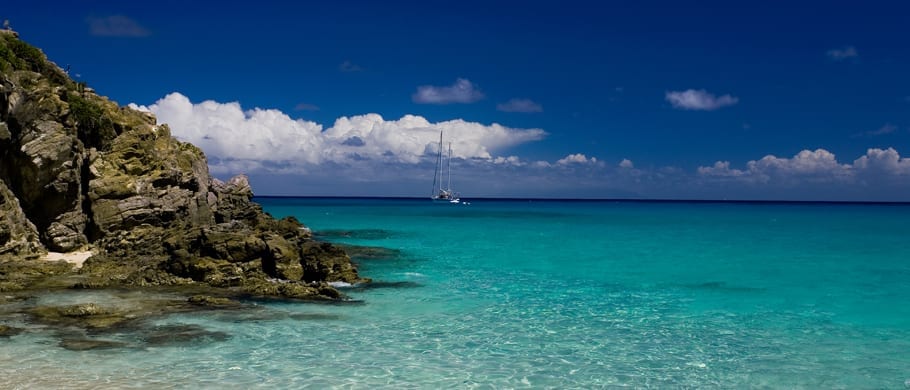 A chartered yacht trip to the Leeward islands can take into account all the different cultures that have permeated the islands, from food to how people sit back, relax and communicate with one another. Your charter itinerary will allow you to grasp the essence of each island and everything they individually have to offer.
Consider beginning your trip in Antigua. Known for having been a hideaway for buccaneers, this distinctly British sounding island – especially when you pull yourself away from the beach and visit the St John's, is a treasure trove of fun and relaxation. An inspiring place that makes you melt away.
The other side to Antigua is Barbuda. A secluded getaway that can boast pink and white beaches, bird sanctuaries that outnumber the amount of residents on this part of the island and for many, the perfect isolation to sit back and unwind. This used to be the playground for Princess Diana in the early 90s and we can understand why, here in Barbuda, you can sit back and truly enjoy what mother nature has left in the middle of the Atlantic Ocean.
Head into the wonders of St Kitts and Nevis. If you had to draw your dream landscape, it would look something more like this. Beaches, mountains, lush green forestry and a culture that evokes calm, tranquility and the Soca beat.
The similarities between the two locations however can be a little deceiving. Yes, they share a land mass but they have slight differences which make all the differences in discovering this wonderful area. St Kitts is larger whilst Nevis has a more town feel about it as well as the singular volcanic mountain that determines its geographic features.
These are islands trenched in history, locations that can call upon the names of Horatio and the US founding father Alexander Hamilton to count but a few in what makes this land so different and special.
St Barts is a jewel of French urban design and culture with lush tropical landscape and flowering gardens that back up onto mountainous cliff faces and turquoise beaches. This is a destination for those that really want to take it a splash of culture and elegance whilst also enjoying everything that this coastline brings with it – activities that suit the adventurer and water sport enthusiast all in one. From windsurfing to sailing, this is the kind of destination that mixes couture with fun, and it does it without missing a beat.
Enjoy a trip to St Maarten, an iisland that has such a different feel and vibe to St Barts, you can understand how culture can be transported across vast waters and remain, if it feels a little disorientating at first. Here, in what is known as the island with life, here, you will discover that the Caribbean as a whole is a mixing pot of cultures and identity, one that will raise ideas of what being an international holidayer can mean.
Essential Travel Information for The Leeward Islands
July to August is a common time to celebrate Carnival. Many islands will host parties in this period which is generally the driest and warmest. Hurricane season is officially June to November.
The currency in the Leeward Islands is the US Dollar.
English is spoken across the whole of the Leeward Islands. French and Dutch are common languages in some locations.
How to charter a yacht in The Leeward Islands
You can access most of The Leeward Islands mainly by airport, boat taxis and circulate by car on the mainland. Princess Charter offer a variety of yachts for charter along The Leeward Islands and its islands, ranging from 20 metres to 100 metres in length.
To book your perfect getaway, give our team a call 0207 499 5050, or email info@princessyachtcharter.com. Alternatively, leave a few details here, and we'll call you back.
Enquire about
this destination