On Board Princess Yacht Charter M/Y ANKA with Captain Sokratis Fani
8th May 2023
A career on board a luxury charter yacht seems very glamorous but what's it really like behind the scenes?  With the ever-popular docudrama 'Below Deck' portrayal of crew life on board a superyacht, Princess caught up with Captain Sokratis at home just before the start of the season, to find out what really happens on a charter yacht.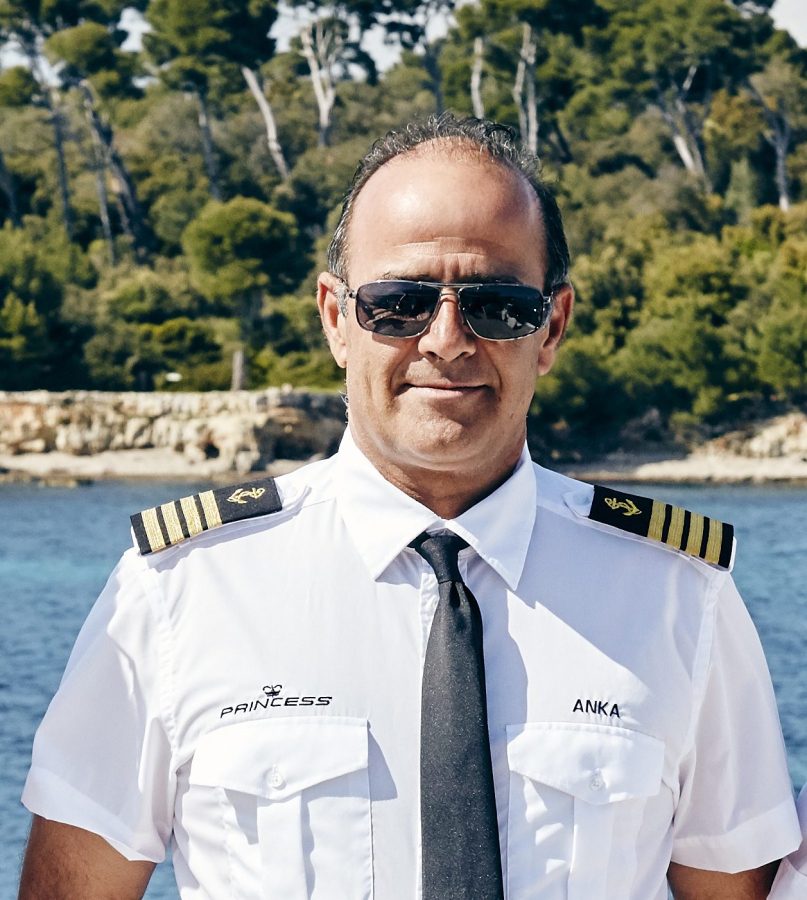 What is your background and how did you become a Yacht Captain?
'I'm from Cyprus, and I've been a captain for over 25 years.  I used to be a fisherman, the same as my grandfather and father so working on the sea is in our blood.  Then in 1997, I spent a summer on charter to help a friend of mine and I was hooked!  Being a fisherman, I already had some maritime qualifications, and then I studied further qualifications to become a Captain in Greece which took two years during the off-season (winter).  These certificates need refreshing every 4 years so you have to be very committed.   Once I had qualified, I started my first role as a Captain for Princess Yachts in Cyprus.
How do you prepare for a charter?
'I speak directly to the charter customer beforehand to make a cruising plan for their chosen area – an itinerary for the entire week.  I then send it to the customer for them to check and then we start to discuss a few changes and amends and even some plan B ideas in case the weather isn't kind.
Every charter itinerary can be slightly different, for example, a customer may wish to spend two days somewhere in particular and we do everything we can to accommodate their wishes.  I also then send preference lists to the customer to better understand their desires in terms of food, drink and activities for their entire party of family and friends that will be joining us on charter.  I arrange provisions with the Chef and create the order for food and drink etc to make sure everything is ready at least one day before.  I check the weather forecast and sometimes have to make some last-minute changes accordingly.  Crew are very important; they need to be good at their job plus friendly and smiley and make everything perfect for the guests so they also carry out a lot of preparation on board.'
What happens when guests arrive?
'We welcome them on board, introduce them to the crew and serve some canapés and drinks to make them feel comfortable.  I give a briefing about the yacht, the planned itinerary and an update on the weather and any changes we may need to make.  Safety on board is incredibly important so I go through the procedures and then give them a tour of the entire yacht.  On the second day, it starts to become more relaxed as we get to know each other.'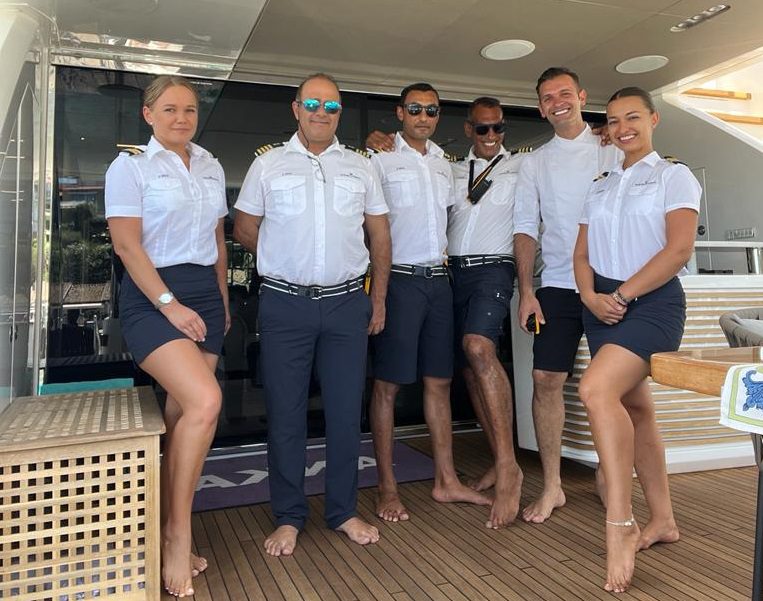 Could you give an example of a charter week holiday itinerary?
'The Amalfi coast is good as the weather is usually lovely so we can often stick to the plan.  Sometimes we do a slightly different itinerary such incorporating three days in Amalfi, a week in Sardinia and finish in St Tropez in France.  We usually move the boat everyday as guests like to see as much as possible in one week.  And for short passages of 2-3 hours, we sail during the day.  Another lovely itinerary could start in Naples, then on to Capri, Positano and Sorrento.'
What does your role involve on charter?
'Driving the boat is a small part of my role', he laughs.  'On board we are a crew of 6 in total – myself, two deckhands, two stewardesses and a chef so it's quite a small team to cover everything.  I'm constantly checking everything – the boat, if the guests are eating, swimming, doing activities etc.  I make sure everything is going well and guests are enjoying themselves, it's my responsibility.  I'm also the engineer so I'm often checking the boat is all in good working order.  Top quality food, drink and service is vital so I check the Chef's cooking and the quality of everything including presentation.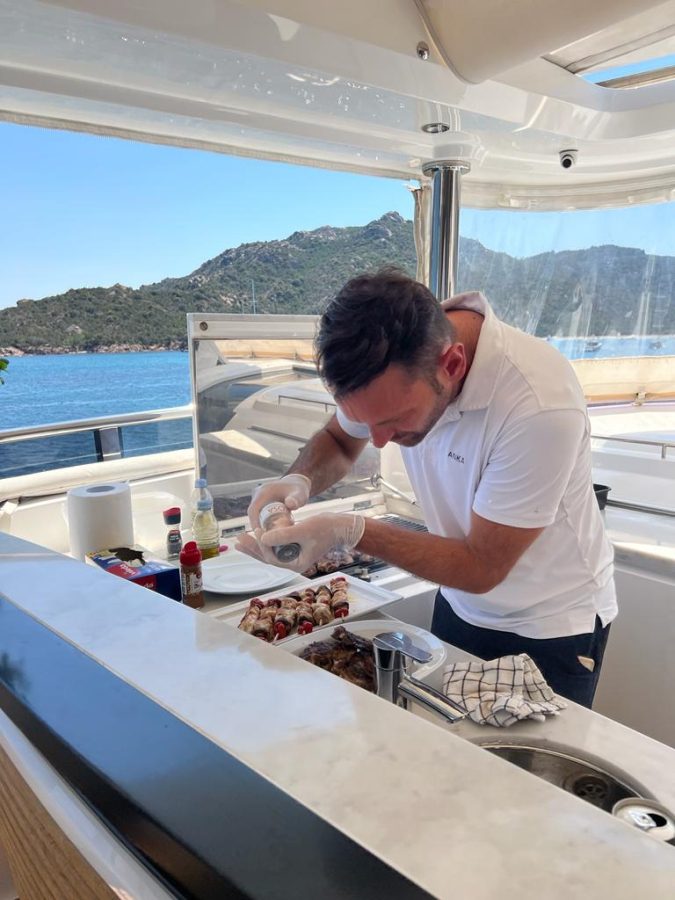 Guests do enjoy meeting the captain but we have a balance of being close and building a nice friendship but also giving guests space and privacy.  It's all about being discrete.
We try to have plan for three days in between charters to clean and tidy from the previous guests and prepare for the next guests.  We don't really have any time off in between but I have about half a day to check emails and we go for a crew dinner ashore.  It's nice to get off the boat sometimes and be on land as a break to enjoy something to eat as a team.'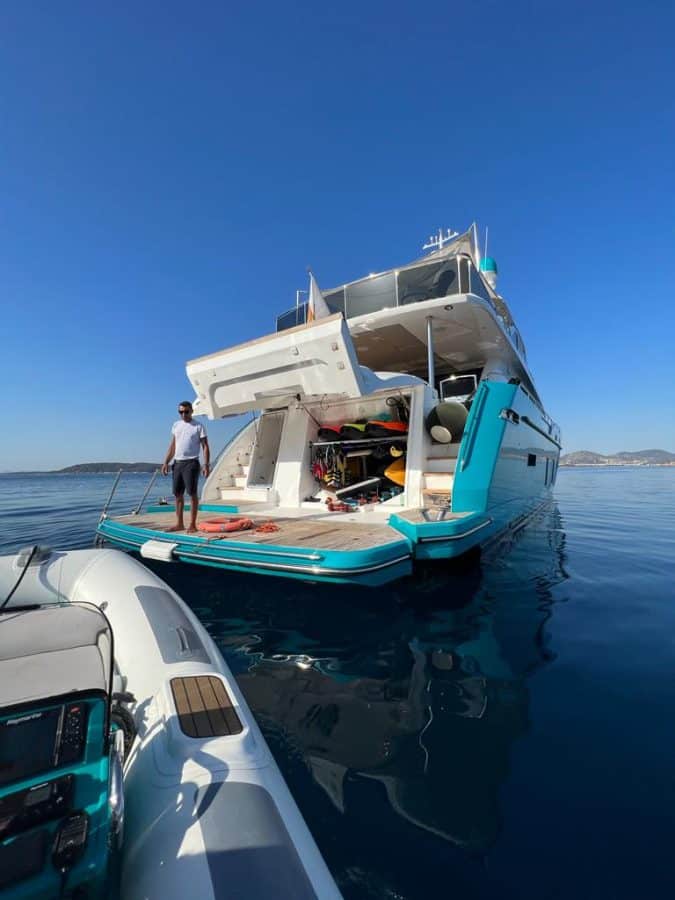 What happens on the last day of charter?
'It depends on the guests to be honest.  Some are lovely and by the end of the week you've built up such a nice friendship and enjoyed such a wonderful trip that you don't want them to leave.  It starts to feel a bit like family, it's important to get on well.'
What hours do you work?
Captain laughs.  'There are no real set hours, it's a 24/7 job.  We are usually on charter May and June, then the owner often uses it in the peak summer months with his family, then we sometimes have more charters booked in September and October.'
What's the best part of your job?
'Definitely the cruising.  And at the end of a charter or season you feel a huge sense of satisfaction when you see people are happy and have enjoyed themselves.  You have to love the job otherwise it's not possible to do it.  I live away from home May – October.  Sometimes my wife comes to visit for a day or two in between charters.  When I get home in November it takes at least a week to unwind and relax and switch off from the job.  I have two different worlds.'
What are some of the best things you've organised for guests?
'We organised a spectacular fireworks display on Porto Cevro in Sardinia for a guest's wife's birthday which was amazing.  We organised that through a shore-based agency and it included musicians on board too.  One guest requested an Indian themed evening on board so we organised the appropriate food and drink and the crew dressed up in traditional costume.  We have also taken guests to see the famous fireworks in Cannes, in the south of France, which takes place in July and August.'
M/Y ANKA
Princess 30M (2019)
Cruising speed 17 knots
10 guests in 5 cabins
6 crew
Cruising area; Amalfi Coast and southern Italy, Corsica, Sardinia, Italian Riviera, France
Watersports toys; 3 x Seabobs, Jetski Seadoo, 2 x kayaks, 1 x paddle board, 2 x wakeboards, snorkelling gear and a Williams tender
Find out more about Princess Yacht Charter online: https://princessyachtcharter.com/
and in particular M/Y ANKA: https://princessyachtcharter.com/yacht-charter/anka/