ESCAPE ON A BEAUTIFUL BALEARIC ISLAND ADVENTURE
30th April 2022
When it comes to embarking on wonderful relaxation and rejuvenation, the stunning Balearics is one of the Mediterranean's most glittering yachting destinations. Island-hopping between the sun-drenched archipelago of Mallorca, Menorca, Ibiza, and Formentera offers many tantalising discoveries.  Imagine by day, gently ambling along ancient cobbled lanes and by night experiencing the pulsating party vibe of chic resorts. Our exclusive Princess yachts for charter are ideal for escaping to those idyllic tucked-away coves and beaches that the tourist crowd misses. The Balearics have the perfect combination suiting every traveller's interests.
The Balearics' lust for life
A closer look at the Balearic Islands, away from numerous lively beach resorts, reveals enclaves of rich cultural heritage; a side that can often get forgotten about.
Mallorca's capital, Palma, offers captivating historical sights such as the stunning La Seu Cathedral (overlooking the bay) and Bellver Castle. The city has it all, from elegant leafy boulevards and designer boutiques to art museums and galleries paying homage to the likes of Picasso, Miro, and Salvador Dali. Also enriched with several Michelin star restaurants and local food markets, foodies are guaranteed to be in heaven here too.
While each day spent holidaying on the 'white island' of Ibiza is a fresh enlightening experience. Marvel at stalactite and stalagmite formations at the smugglers' C'an Marça Caves. Explore the winding lanes and ramparts of Ibiza's picturesque 'Old Town', stumbling across little museums and charming shops, before reaching the hilltop to gaze at magnificent sea views.
What are the best ports of call?
Balmy sunny days, beautiful beaches and breath-taking coastlines, the Balearics islands tempt charter voyagers with easy calm sailing to many exciting destinations. One of the most popular highlights is the romantic scenic coves of Cala D'Or Bay and in Pollença bay, paddle boarding and kite surfing at the long sandy Llenaire beach. Meanwhile, with a 3km stretch of sandy beach, Port d'Alcudia is alive with swimming, snorkelling, windsurfing, paragliding and jet-skiing activity.
For family fun, seek out a little gem of a resort on Ibiza – Cala Portinatx – tucked away in the north. An excellent gorgeous spot for watersports, boat trips and snorkelling along with hiking and cycling in its surrounding scenic hills. Get a spectacular sunset view by climbing to the top of Es Verda, near the bay of Cala d'Hort.
Fancy getting away it all and communing with nature in total tranquillity? Just 10km off the southern coast of Mallorca takes you to the island of Cabrera, where 19 wild islets reveal incredible biodiversity. Designated as The Cabrera Archipelago Maritime-Terrestrial National Park, the crystal waters, underwater caves, rocky and sandy sea beds are perfect for spotting many species of seabirds, dolphins, whales, eels, barracudas and other marine life.
If you love nothing more than seeking out remote pristine natural beaches, Formentera (the smallest island in the Balearics) with its laid-back streak fits the bill. Recommended places include Illetes and Llevant where soft bleached white sands lap sparkling turquoise blue waters, reminiscent of the Caribbean.
Chartering a yacht around the pristine waters of Mallorca transports you into a life of luxury with prestigious marinas such as Puerto Portals (boasting excellent restaurants and fashion boutiques), the elegant beautiful Port Calanova and Port Adriano offering premium service. Or for a more local feel, the small fishing port of Puerto d'Andratx and natural harbour of Porto Colom are well suited for peaceful relaxation.
Get the ultimate in privacy & personalisation
The Balearics offers peace and seclusion. A great destination choice for high-profile guests to protect their privacy throughout the charter.
Our yacht charter service is truly bespoke to suit you. We take pride in creating personalised itinerary and activities. We also accommodate any specific dietary needs, whilst ensuring you get your preferred favourite food and cocktails.
Choose your dream yacht
Select from a superb perfectly matched line-up of luxury Princess yachts available for charter in the Balearic Islands that are sure to enhance your holiday enjoyment.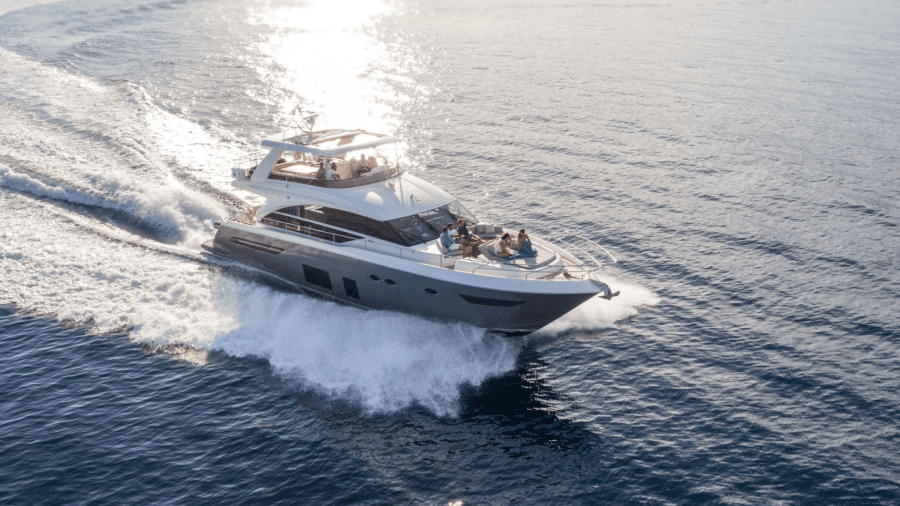 Gleaming with style and offering a lust for adventure, the 21.25 meter Free Soul yacht is a beautiful welcoming pleasure craft that's luxuriously designed with warm wooden finishes and sleek white furnishings. Bringing ample space inside and out, and equipped with a fantastic array of water toys, Free Soul is an exciting liberating vessel.
The sporty 25m-long Lemon Not Lime brings light-filled spacious comfort to eight guests. Crisp modern interiors with excellent dining and cabin accommodation give way to versatile entertaining spaces outside.
Mr Blue Sky – a 20m-long Princess Yacht is stunning with sinuous curves and a roomy plush modern décor that exudes relaxation and style. Dive into the glittering waters from the swim platform and enjoy her great range of onboard water toys.
Bookings are filling fast for the summer months, so to avoid any disappointment contact our charter yacht team and secure your ideal holiday as soon as you can on  0207 499 5050, or by email at info@princessyachtcharter.com