Hidden Spain: Highlights of a Balearic Charter
29th November 2019
Create your Balearic Charter. The Balearic Islands are not exactly the world's best kept secret either for holidaymakers or charter guests. In addition to a glorious climate, which drenches the archipelago's pine-clad hills in year-round sun, the Balearics offer some wonderful food, plenty of historical texture and a sliding scale of culture and indulgence, of rusticity and refinement, that enables virtually anyone to curate a holiday that perfectly matches their tastes. Naturally then, there are times when the primary guidebook destinations get prohibitively busy. But while the cruise ships flock to Palma de Mallorca, the hedonistic young tourists hit Magaluf and the lifestyle partygoers converge on Ibiza's famous clubbing town, each of the four main islands retains plenty of potential to excite…
The best of Mallorca
Four Mallorcan towns particularly worth seeking out include Deia, Pollença, Porto Cristo and Colonia Sant Jordi. Deia, up in the northwest of the island, is a tight, pretty, winding town built into steep hills in the Serra de Tramuntana mountain range, with lovely views out to sea. Most who stay here use it as a base for mountain exploration or as a diversion for a day trip. But with fantastic food at Restaurante Sebastian and Michelin-starred Es Racó d'es Teix, allied to its enduring appeal for high-profile celebrities, it makes a great little escape during a Balearic charter itinerary. And if you head to the northernmost part of the same mountain range, the town of Pollença is a very suave place set amongst stunning countryside with a Sunday street market, a café-lined square, a lively events calendar and a reputation as one of Mallorca's loveliest towns.
The south of the island is defined by more earthy fishing villages and Porto Cristo, a quiet Mallorcan village with a natural harbour, an active fishing fleet, a fine beach and a gentle feel-good buzz, is one of the best. Though it's quite remote, it has all the facilities you need for an extended stay, as well as easy access to the impressive Cuevas del Drach underground caves. And if you want a traditional coastal village largely untouched by tour operators, Colonia Sant Jordi in the far southeast has a laid-back marina, with a scattering of eateries and easy access to the nature reserve at nearby Cabrera island.
As for the beaches, one of the island's finest is Playa Es Caragol. While it has no tourist facilities to speak of, its natural setting, cocooned by dunes, with white sands and warm, shallow waters, is spectacular. And just a stone's throw further east, Caló del Moro is a superb little cove with plenty of opportunity to anchor a yacht and nudge ashore in a tender.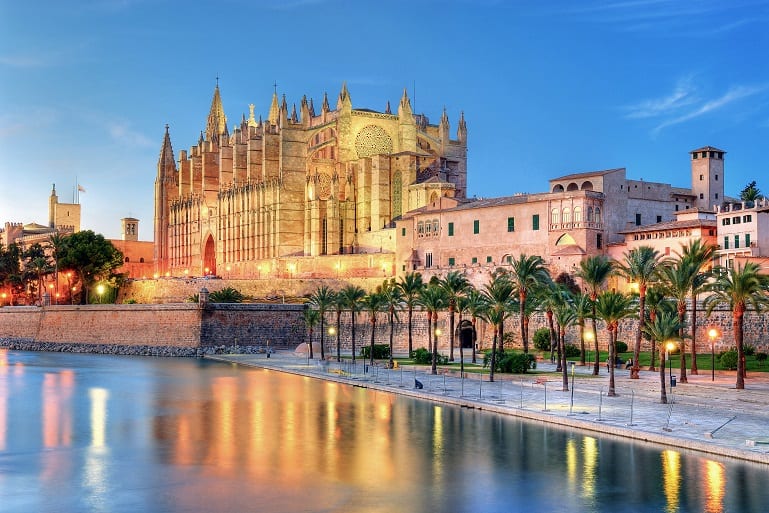 The best of Menorca
While Mahon is the capital of Menorca, its modest scale, unhurried pace and intimate atmosphere make it feel very much like an exclusive escape. It clings to a ridge above a saltwater inlet at the apex of a vast natural port and impresses with the elegance of its Georgian-style architecture and the happy inclusivity of its alfresco food scene. The Nuestra Señora de Gràcia Festival in September is a riotous time to visit but outside of that week, its low-key conviviality is a lovely antidote to the mania of various other peak season destinations in and around the Balearics.
That said, as the island's original capital, the west coast town of Ciutadella is equally appealing. It marries an active fishing fleet with a slick yacht charter scene; it blends a working port with brightly coloured waterfront restaurants; it brings together romantic town plazas with rustic street food; and despite its urban sophistication, it also brings you easy access to some of the island's finest beaches, like Cala Santandria and Sa Caleta.
While you're visiting Menorca's two main towns, however, it's worth looking at some of the attractions beyond the city limits. The old Lithica Quarry, just a mile or two from Ciutadella for instance, is a beautifully restored site full of ornate gardens and lovingly sculpted rock formations. And less than two miles south of Mahon is an excellent vineyard called Bodegas Binifadet, where you can take a walk, book a guided tour, enjoy a wine tasting or settle in for a meal at the fine-dining restaurant.
If you're keen to get more active, Binibeca Vell is a 70s village conjured into existence by Spanish architect Antonio Sintes Mercadal, just five miles or so from Mahon. In his attempts to replicate the character of a traditional Menorcan fishing village, he arranged a maze of low-slung whitewashed houses around a compact harbour, styled them with Moorish design cues and connected them with a maze of cobbled streets. As a quirky spot for some family watersports, it takes some beating.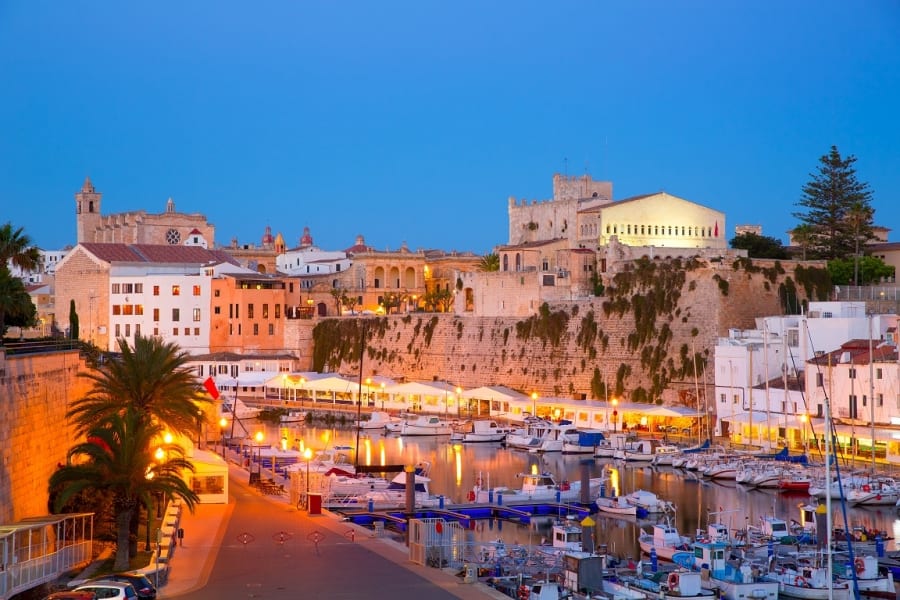 The best of Ibiza
While Ibiza Town is a multifaceted place full of antiquity, energy and variety, those in search of something less obvious would do well to look towards the centre of the island, where Santa Gertrudis de Fruitera continues to enthral with its fusion of traditional Ibizan village and swanky cultural hub. As with most towns in this part of the world, the heart of the place revolves around the central square, where a long lazy lunch has become something of an art form. There is also a very active culture of markets in Ibiza, most of them with a charming hippy vibe that endures from the 60s, so while you're exploring the island's interior, take the time out to visit another exponent of that ethos in the form of the Paloma Restaurant in San Lorenzo. Renovated from a rundown finca in 2004 and opened as a restaurant in 2008, it echoes the atmosphere of Ibiza quite beautifully with a warm welcome, honest food, a lovely bohemian personality and a gorgeous setting among fragrant orchards.
Back out at sea, there is a small island called Sa Conillera, off the west coast of Ibiza, which comes with a fanciful history involving pirates and witches. It's a gruff and rocky place with plenty of quiet inlets for anchoring and a 19th century lighthouse at Punta de sa Torre, boasting great views. And for a more user-friendly form of wilderness, look toward Ses Salines National Park in the south of Ibiza – a UNESCO World Heritage site encompassing a collection of magnificent salt lakes and a dramatic sea channel that divides Ibiza from its sister island, Formentera.
If beaches are your thing, Ibiza is outstanding. While Cala Saldada and Es Portitxol are both superb, the difficulty of reaching Cala Llentrisca by foot makes it one of the very best beaches for those on a yacht charter. It's a compact beach in a crescent shaped inlet with a ramshackle arrangement of fishing boat sheds and a small timber jetty that provides the ideal base for diving. And despite its location, just a few miles east of Ibiza Town, Cala Bonita is another pleasantly undeveloped beach in a lovely tree-lined bay with extraordinary views and a restaurant that finds plenty of favour with the locals.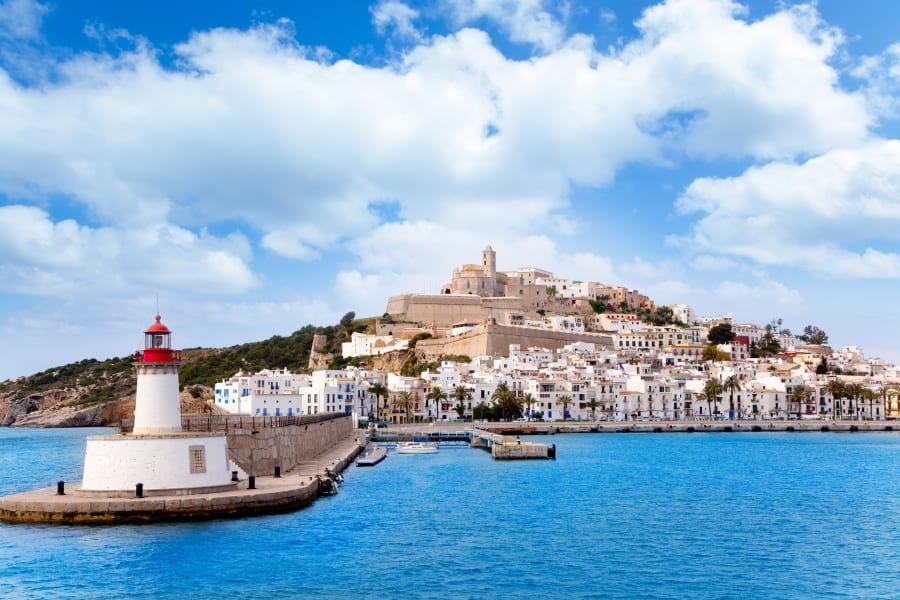 The best of Formentera
Perched out on a limb, seven miles south of Ibiza, Formentera is a rocky little island that can only be accessed by sea. In relation to the rest of the Balearics, that tends to mean that any destination here feels just a touch exclusive – like a special item pulled from behind the counter, while the rest of the world blithely accepts the commonplace stuff straight off the shelf. If you want to make the most of the island's gruff, elemental simplicity, that's easily done simply by circling the coastline in pursuit of a deserted cove or heading inland on a hike.
The island's relative exposure to the brunt of the afternoon winds makes it great for sailing and kite surfing but if you prefer to stay ashore and enjoy some casual, Formentera style bars, Platja de Migjorn is a great place to be. Lining the south side of the island's narrow central limb, this is a place of sporadic naturist zones and idle scatterings of bars, accessed via lumpy sunbaked tracks. While you're here, embracing the strange, wild informality of the place, check out the classically rustic Kiosk 62 and the stylish Blue Bar. While they lack the polish of the region's more feted urban bars, that's part of what makes them so memorable.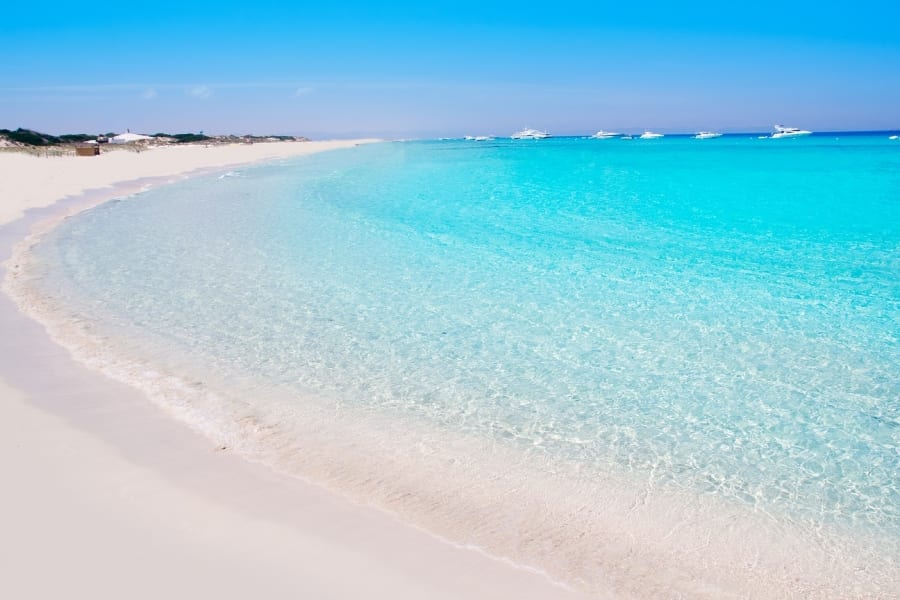 See yacht charters available in this destination
or contact us for more information.