A charter experience with Princess Charter is not complete if we haven't offered you the opportunity to book a table at the best restaurants. The cuisine from this part of the Mediterranean is fused with locally grown produce and freshly caught fish and seafood; ingredients that the chefs enjoy shed lights on and perfecting. Last but not least, you can be guaranteed to always have beautiful surroundings to look out on.
Zori – Hvar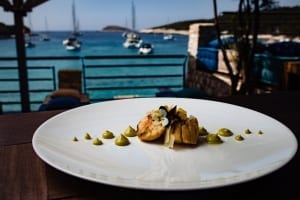 Zori is located on St Klement, close to Hvar city. It is on this mystical island that Zori has built 60 years of amazing reputation, blending creative dining with a stunning backdrop. Our favourite dish is the 'Octopus on the grill with boiled potatoes à la Mediterranean'
Stara Loza – Dubrovnik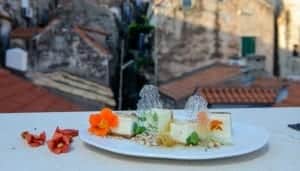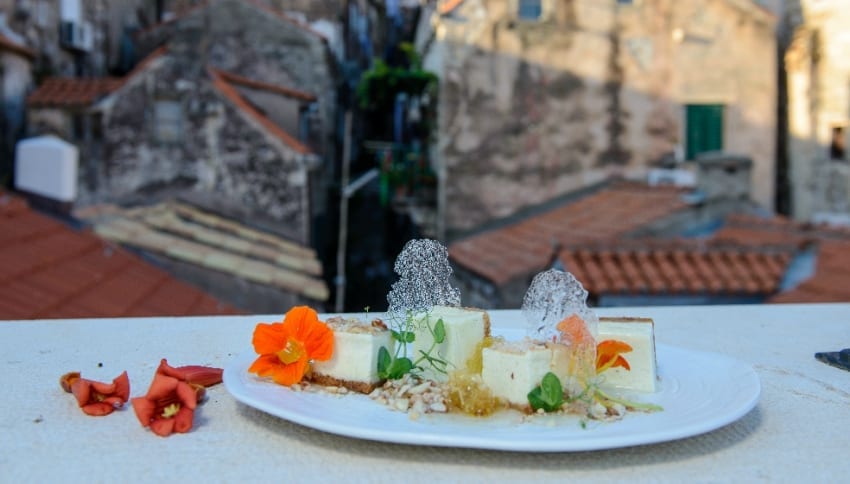 Situated in a medieval historic palace, Stara Loza opened its doors recently in Dubrovnik. Sitting on the terrace and enjoying a delicious meal is a fabulous way to observe the life and general hustle and bustle of Dubrovnik Old Town, whilst admiring its architecture from the Renaissance and Baroque periods. We would definitely go for the 'Slow cooked shank with carrot puree, chips and rosemary sauce'
Fort George – Vis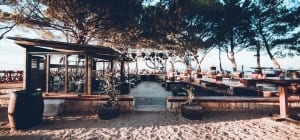 Fort George ticks every box for the trendy beach restaurant you'll yearn to visit whilst chartering a yacht. Long tables are set up under the shaded canopy of pine trees and almost right on the beach to enjoy the most perfect of the Adriatic Sea panoramic views. From the chef, you can expect vibrant Mediterranean creations. Not only this, the restaurant even has its own art gallery and sunset bar club. The 'Roasted stuffed Bell Pepper with Truffle Sauce and Seasonal Vegetable Cream' sounds really appealing to us.
360 – Dubrovnik
360 is one of the most acclaimed restaurants in Croatia. This one Michelin star restaurant is probably the place you will want to go to experience fine cuisine techniques that are applied to Croatian local dishes. Available exclusively for dinner sittings and right on Dubrovnik port, this location is perfect for admiring a unique sea view. We could never recommend 360 enough. The 'Sweetbread with Artichoke, vegetable relish, celery puree and toasted almond' sounds just heavenly.
Odisej – Mljet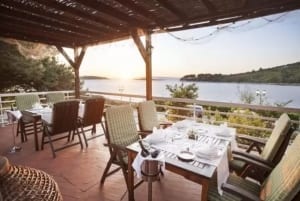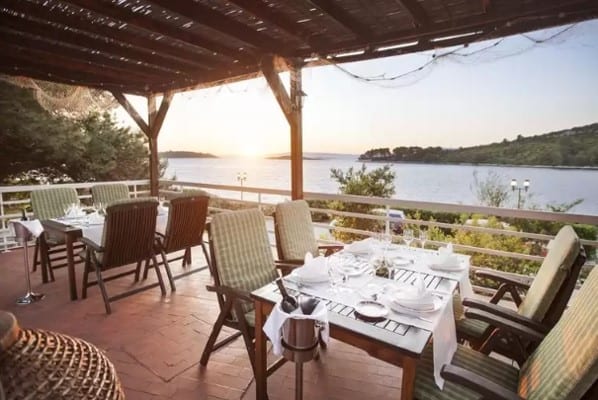 Located on the island of Mjlet, not far from Dubrovnik, the main restaurant of Odisej hotel is a quiet getaway to enjoy a romantic dinner on the terrace surrounded by calm seas. A great spot to look out to wondrous views of Dubrovnik.  The menu offers a wealth of local freshly caught fish prepared in time-honoured Mediterranean / Croatian traditions.
To find out more about embarking on an exciting charter in Croatia, call us on +44 (0)207 499 5050 or email us.
Pictures: Courtesy of Zori, Stara Loza, Fort George, Hedonist-magazin, Hotels.com.