Croatia yacht charter: the perfect charter holiday
20th October 2021
Croatia yacht charter: the perfect charter holiday
Do you want something less obvious than the Caribbean or the French Riviera? Somewhere with a fabulous climate, intoxicating scenery and every conceivable asset you need for the perfect luxury yacht charter? Then you should take a look at Croatia. While fans of hit TV series, Game of Thrones, will love the ancient fortified ramparts of Split and Dubrovnik where much of the footage was filmed, there's much more to Croatia than spectacular nautical towns and cities. With scattered ranks of islands, outcrops and inlets extending the entire length of its sun-drenched Adriatic coastline, there is always somewhere to shelter from the breeze, to enjoy safe family watersports or to head ashore for a private excursion, well away from the tourist throng.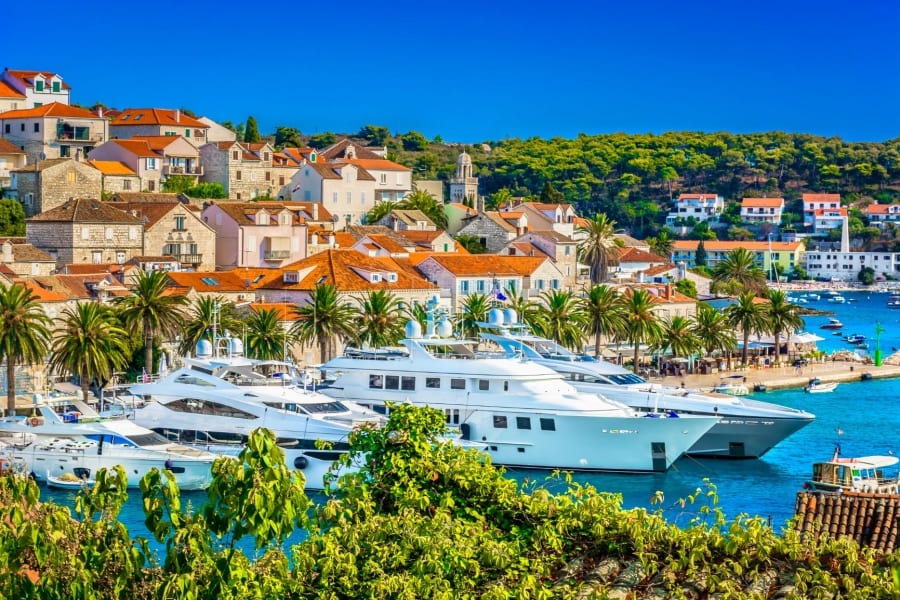 In fact, such is Croatia's modern appeal that it's become a very practical and user-friendly place to charter a yacht too. There are plenty of charter yachts of every size and type to choose from, plus a shoreside infrastructure that is beautifully geared up for visiting yachtsmen. The prices are accessible, the richness of cruising options is ideal for a customised itinerary and the wonderful climate provides a reliable summer season all the way from May to October. In fact, with budget air travel enabling you to head directly to Pula, Split, Zadar or Dubrovnik without excessive cost or complication, Croatia is as perfectly primed for a great yacht charter holiday as anywhere in the world.
Yacht charter Croatia: cruising options
With more than 1,200 islands, a range of glorious UNESCO-protected towns and cities and a long unspoiled coastline punctuated with olive groves and vineyards, the yacht charter options here are virtually endless. Whether you're into island hopping, local wine, secluded anchorages or cultural antiquity, there are no shortage of places to find it – but for most, the following three itineraries offer a useful way to kickstart the thought process…
The first encompasses the north of the country, taking in Rjeka and Zadar and finishing in Sibenik and the beautiful Krka River and National Park. The second hovers around the centre, running out of Trogir and taking in highlights like Vis, Brac and the Drvenik Islands before returning to base. The third, which covers around 160 nautical miles from Split to Dubrovnik, is arguably the most exciting of the lot. After all, as the main city on Croatia's Dalmatian coast and an active port town, Split blends winding medieval streets with plenty of urban bustle and a glorious waterfront, headlined by the endlessly gregarious Riva promenade. And Dubrovnik's vast city walls, world-class restaurants and atmospheric antiquity must surely rank it among the world's most striking charter destinations.
Whichever part of the country you favour, four places worth keeping in mind are Hvar, Bisevo, Korčula and Mljet. For boutique shops and restaurants that feel almost like the chic shopping promenades of the French Riviera, the port of Hvar is fantastic. It also delivers a lovely al fresco café scene, a buzzing nightlife and easy access to a range of nearby islands, bays and anchorages. A short hop west, the Dalmation island of Bisevo offers a more organic brand of entertainment, with wonderful scenic sands and crystal clear waters at Porat Beach, plus some great fishing spots and a glowing sea cave on the eastern shore known as the Blue Grotto.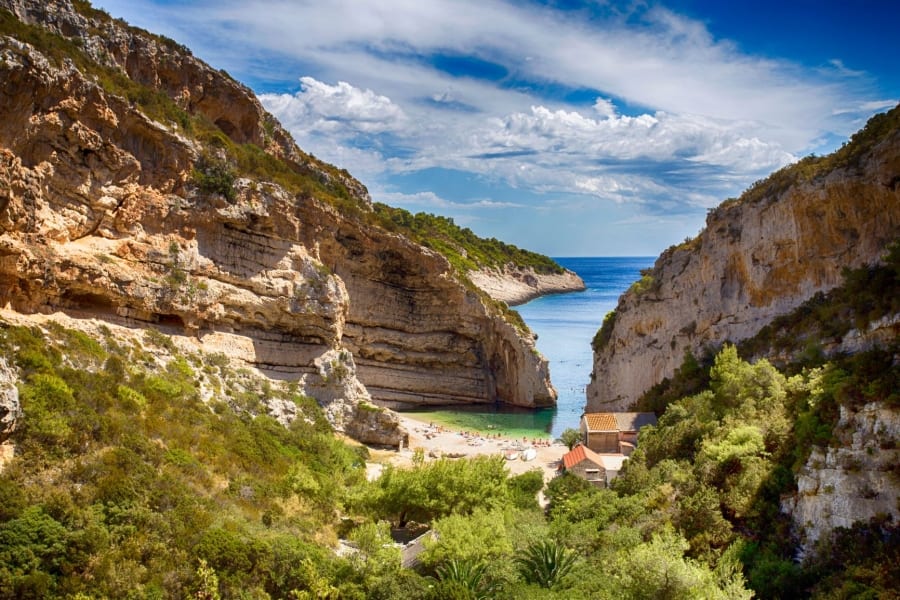 To the south of Hvar, Korčula is a blissfully relaxed Croatian island, with an impossibly idyllic port city (Korčula Town), replete with gorgeous Gothic and Renaissance architecture, all wrapped up in vast anti-piracy fortifications. When you've had your fill of the town's astonishing time-capsule loveliness, the outlying vineyards and olive groves are also well worth a visit. And if you want to get more active, nearby Mljet is a fine natural retreat with superb anchorages at Pomena and Polace, as well as some famous sites for shipwreck diving and some serene saltwater lakes that make a memorable diversion by tender.
Croatia charter yacht highlights
The choice of yachts available in Croatia is now extremely diverse – and with prices from €35,000 per week, 4LIFE represents particularly good value for money. Built in 2013, and capable of sleeping eight guests in four cabins, this Princess 85 will happily cruise at 19 knots, bringing plenty of destinations within easy reach, and its toys are perfectly tailored to the warm, sheltered waters of Croatia's island-littered coastline. In addition to a Williams Jet RIB and a set of inflatables, they include a high-performance Sea-Doo RXT jetski, a Sea Bob, a kneeboard, a set of waterskis and some snorkelling and fishing gear. There's also a submersible swim platform for easy access to the water.
Further up the scale, with rates from €62,000 per week, AURUM SKY is a luxury motor sailing yacht capable of sleeping 12 people in six double cabins, each with its own private bathroom. Built in 2020, the sheer versatility of her on board spaces is extraordinary. The main deck offers nearly 100m² of space, including a lounge that extends out into the aft dining area; and the 120m² flybridge includes a Jacuzzi-equipped sunbathing area with uninterrupted Adriatic views.
For even more versatility, ANKA is a superb example of Princess's award-winning 30M superyacht. Built in 2019, she comes with a cruising speed of 17 knots, accommodation for 12 people in six cabins and prices from €90,000 per week.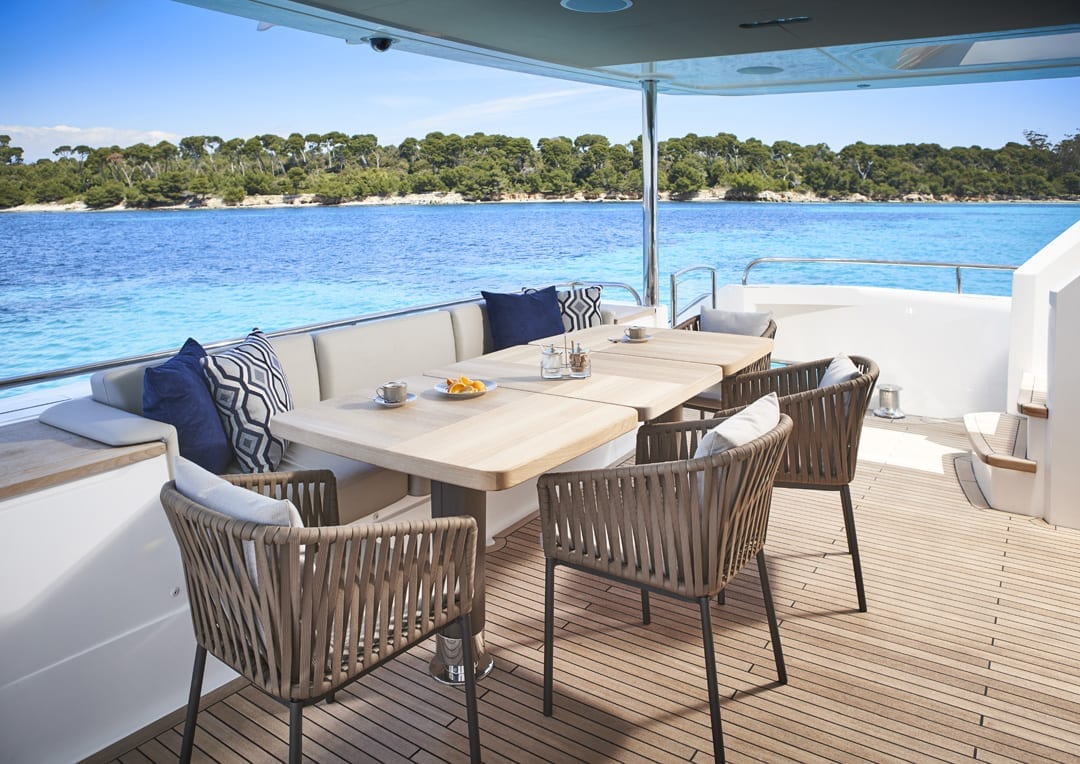 And if you really want to push the boat out, ANTHEA delivers a truly magnificent yacht charter experience. At more than 170 feet in length with a 28-foot beam and three expansive decks, there's ample space for 20 people in ten luxurious en suite cabins. In addition to 11 crew, she also features a Jacuzzi, a fully equipped gym, a sauna and a range of on board beauty treatments, including massage. And with a 6.8m tender, two jetskis, six stand-up paddleboards, waterskis for the whole family and enough snorkelling equipment for the entire ship's company, the toys are equally impressive.
Alternative East Med yacht charter options
Perched neatly on Croatia's southern border, Montenegro has been busy in recent years, generating a name for itself as a highly refined destination for those in search of yacht charter exclusivity. Its 160-mile coastline certainly provides a pleasant mix of medieval towns, secluded forest walks, sandy beaches and uninhabited islands, but if you want a more textured snapshot of the east Med yacht charter experience, the Greek islands provide an amazing degree of choice. You can find everything from modest traditional sanctuaries and places that ooze with ancient maritime folklore to hedonistic party destinations and suave hideaways for pampered A-list sophisticates. And further east still, Turkey has also become famous as a yacht charter destination. Whether you opt for the colourful vibrancy of bustling Istanbul or the slower-paced yachting pleasures of the Turkish Riviera, Turkey's enviable position at the meeting point between east and west creates a yacht charter experience you will never forget.