Superyacht Charter Destination: Discover the Amalfi Coast and Southern Italy
16th August 2021
EXPERIENCE ITALY'S AMAZING AMALFI COAST AND MORE IN LUXURY
Cruising along the Amalfi Coast towards Southern Italy and beyond is a true feast for the senses. Pastel-painted buildings clutching to dramatic craggy coastlines and effortlessly romantic cobbled piazzas create spectacular scenes. Every dish you taste is a revelation with unique flavours exploding on the tongue from rustic pasta dishes made with the sweetest plumpest tomatoes and freshly caught seafood delicacies such as grilled Swordfish. As the warm breeze catches the fresh scent of distant lemon groves, the carefree chitter-chatter of locals is your calling that this is la dolce vita you dream of.
Aboard a charter yacht, you have the chance to hop from one magical destination to the next in one trip. From the glamorous Amalfi coast continuing on to the rugged beautiful wild shores of Sardinia and Corsica, there's nothing that compares.
Making your way south of Naples, 50km of incredibly picturesque Amalfi coastline, stretching from Positano to Vietri sul Mare, await you. Made of up 13 charming traditional villages, the legendary Amalfi coast (which enjoys UNESCO protection status) has left many a jetsetter spellbound.
Amalfi coast itinerary ideas
One of the jewels in this stunning coastal region is Amalfi town, which dazzles in the sun with a rainbow of houses teetering on the hillside. Tourists often head to the peaceful 13th-century Cloister of Paradise Cathedral of St Andrew for cultural interest. While, a relaxing time can be had just ambling along quaint winding cobbled streets, perhaps hunting down patisseries for tasty cannolis (a type of ricotta cream-filled pastries).
Positano
This picture-postcard perfect coastal town graces the pages of countless travel brochures with many artists attracted to its beautiful rustic charms. The steep streets twist and turn with cosy eateries and many shops selling local wares. Take the many steps down past the gardens of luxurious villas and you'll discover the small Arienzo beach. Also near to the centre of the town, a popular location for sun-worshippers is the quiet cliff-lined Fornillo beach. Another popular draw is the pretty La Porta caves.
Ravello
Amid the timeless gorgeous sea view vistas, elegant streets and idyllic luxury villas, the enchanting hilltop town of Ravello has inspired world composers, musicians, and writers. Richard Wagner composed the second act of the opera Parsifal in 1880 here and DH Lawrence wrote Lady Chatterley's Lover in 1927.
Immerse yourself in the grandeur of the town's cluster of medieval wonders including Villa Rufulo and its paradise gardens, the Duomo cathedral, and two churches. One of its modern treasures is the gleaming white Oscar Niemeyer Auditorium (built in 2011), which hosts Ravello's annual summer music festival, attracting internationally acclaimed musicians, dance troupes, and performers.
No visit is complete without sampling the local Ravello wines, pressed from the grapes that thrive on the steep hills that surround this magical town.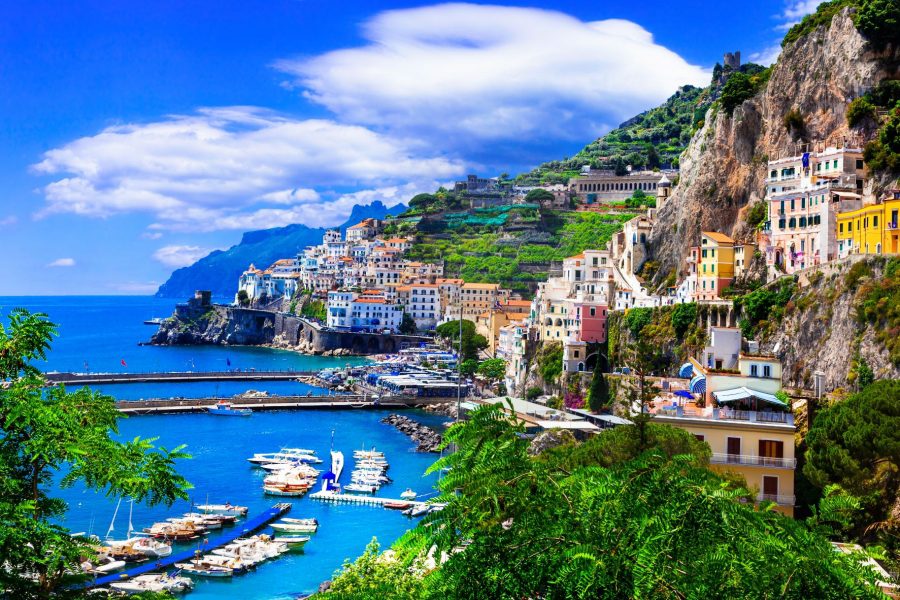 Amalfi – the coast with the most to discover
The Amalfi coastline is teeming with enchanting traditional towns and cities to unwind in breath-taking settings, such as Maiori, Minori, Praiano, Cetara, Atrani, Nerano, and Salerno.
Explore Italy's idyllic islands
In the warm sheltered Bay of Naples are a cluster of beautiful islands you will be itching to discover.
Ponza
Escape to the tiny exclusive island of Ponza (with its amazing grottoes, botanical gardens and labyrinthine Roman tunnels).
Procida
The colourful harbourside houses on the smallest of the islands in the bay of Naples makes a great shot for your photo album. The island is linked by a pedestrian bridge to a volcanic crater that is abundant with flora and birdlife.
Capri
Off the Bay of Naples, encircled by the Tyrrhenian sea, the island of Capri is crammed with culture and alluring exclusive style – all within its bijou 10 square mile land area. It offers numerous secluded anchorages and remote spots that are only accessible by boat.
Fontelina beach, very much appeals with its laidback atmosphere. Near to Capri's famous Faraglioni Rock Formation is a great eatery. To the north, there's the spectacular Blue Grotto, which glows with beautiful magical hues of turquoise blues.
Head to cosmopolitan Capri town and wander along its lovely streets, dropping into its chic designer boutiques and perhaps sample its lively nightlife at dusk. As a quieter alternative, the town of Anacapri oozes rural Italian life. Marvel at the ancient art on display at the hilltop Villa San Michelle.
Ischia
Ischia is a fascinating volcanic island. Relax in soothing natural springs at Baia di Sorgeto or the Fulmaroles of Sant'Angelo, where hot jets of steam naturally rise from the sand. The location is a great spot for lying on the beach, scuba diving, water skiing or windsurfing.
Extending your trip
There is no shortage of awe-inspiring locations all around this area within easy cruising distance.  Stylish Sorrento, effervescent Naples and the incredible sights of ancient Pompeii are within easy reach.
With the white sandy beaches, coves, turquoise waters and sheer natural beauty of Sardinia and Corsica also not far away, this opens up your trip to more exciting possibilities. It makes the perfect opportunity to take a continuous cruise visiting all the treasures of the Amalfi Coast. Then for the next stage of your pleasurable voyage, take in the historic towns of Porto Vecchio, Bonifacio, and glamorous Porto Cervo along with Sardinia's Olbia and the pristine paradise archipelago of La Maddalena.
Yacht charter: Amalfi Coast and Sardinia
At Princess Charter, we have exceptional yachts available to help you experience the best of the beautiful region of Amalfi Coast and Sardinia in the ultimate in style and comfort.
HALLELUJAH Princess 30M and ANKA  Princess 30M 
Both luxury yachts were built in 2019, span 30.45m in length and are equipped with five cabins accommodating 10 guests and served by five dedicated friendly crew. The charter price per week for each yacht is €85,000 + VAT + All expenses. Both yachts availability is upon the request.
For more information, or to book your luxury yacht charter, contact us on +44 (0)207 499 5050 or email info@princessyachtcharter.com