Yacht charter costs: what to expect
27th July 2021
Yacht charter costs: what to expect
It's easy to imagine that exotic superyachts are the preserve of oil magnates, F1 drivers and Hollywood A-listers. But such is the scale and variety of the modern yacht charter industry that special yachting experiences are now more accessible than ever before. So how much does it really cost to charter a yacht? Well the cost to charter your perfect yacht is dependent on a variety of factors – such as the season, the destination, the number of guests and the size, age, quality and reputation of the yacht itself. But yacht charter cost (even superyacht charter cost) can actually be much more affordable than you might think. Here at Princess Yacht Charter, our real-time knowledge of the global charter fleet, the key destinations and the seasonal price fluctuations is without equal – and that puts us in a great position to deliver a range of options that delivers great value as well as great memories.
All-in yacht charter cost: base price plus 35%
Before we look at some specific yachts currently available through Princess Charter, it's important to recognise that, in addition to the weekly charter price of the yacht, you need to set aside some budget for the Advanced Provisioning Allowance (AVA) and the crew tip. The AVA is a preliminary fee you pay to your crew so that they can stock the yacht with food and fuel in accordance with your broker's input. It generally accounts for around 25% of the base charter fee but all unused money is returned to you as a matter of course. As a discretionary gesture, the tip is less rigid than the AVA but it generally amounts to around 10% of the base charter cost. For ease of argument, that means that if your yacht charter fee is €100,000, the total cost will come to around €135,000.
So, let's take a look at how much it costs to charter a yacht…
Accessible yacht charter: Princess 67
At €23,000 per week, with space for six guests, SORANA offers outstanding value for money. Built in 2008 and based among the fabled cruising grounds of the Windward Isles, this Princess 67 motor yacht delivers a classic Princess flybridge layout with three double cabins and a range of sociable day spaces, including a spacious cockpit and a luxurious climate-controlled saloon. While the owner's stateroom takes full advantage of the 17-foot beam, each of the three bright and airy cabins comes with rich wooden furnishings and soft carpeting, as well as private en suite facilities. The large flybridge makes a great venue for rum cocktails and alfresco dinner parties and, to make the most of the Caribbean's crystal-clear waters and wildlife-rich dive sites, the semi-rigid 50hp tender is supplemented with wakeboard and knee-boarding gear, plus fishing equipment, snorkelling gear and a selection of towed inflatables. If you want to make your charter more affordable still, the Princess 62, PAMANGO, is an equally tempting proposition. Based in the magical Croatian city of Split, it can be yours from just €16,600 per week. Even with the AVA and crew tip, that brings the total figure to around €22,400 – or just €2,800 per person for each of the eight guests.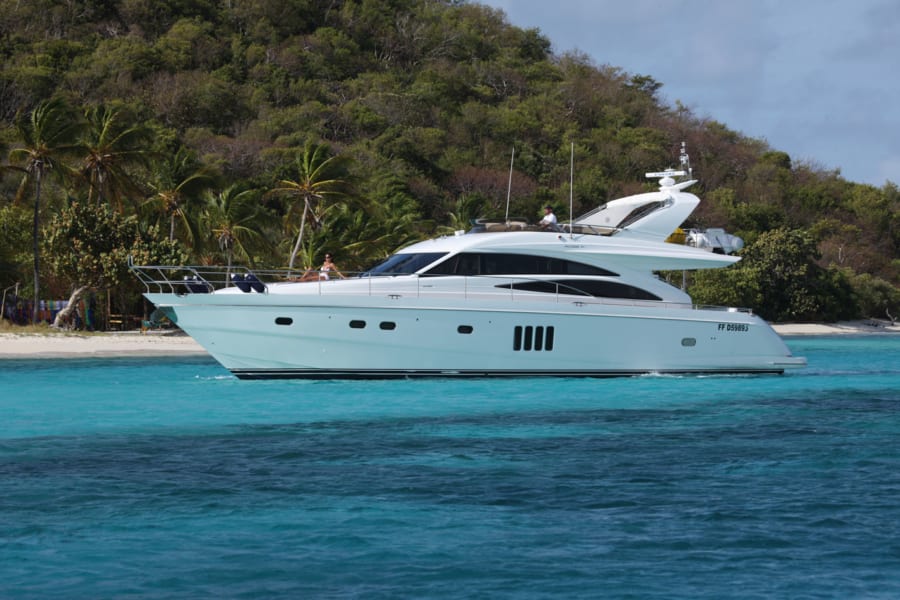 Mid-range yacht charter costs: Princess 30M
The Princess 30M Yacht, MOLLY MALONE, oozes grandeur. Cruising among the waters of Corsica, Sardinia and the Côte d'Azur and costing from €54,000 per week, she offers four spacious en suite cabins for up to nine guests with ample space for five crew. Built in 2008 and refitted in 2015, the Mediterranean-inspired décor features warm redwood panelling with mirrored walls, geometric lines and 'smart' mood lighting and the bright main deck saloon is beautifully integrated with the big aft deck. If you enjoy relaxed alfresco entertainment, the chic deck bar is a great place to kick back with wide open sea views and a tasty snack or cocktail prepared by your on board chef. The freestanding furniture and sun loungers mean that you can arrange the various decks in whatever way suits you and your guests – and with waterskis, snorkelling gear, banana boats and inflatable donuts, it's easy to get out on the water. She's a supremely satisfying charter yacht but if you want something slightly more recent, LADY BEATRICE is an equally appealing option. Built in 2013 and located in the same cruising region, this Princess 30M Yacht comes with a beautifully understated fit out that prioritises laid-back downtime over glossy ostentation.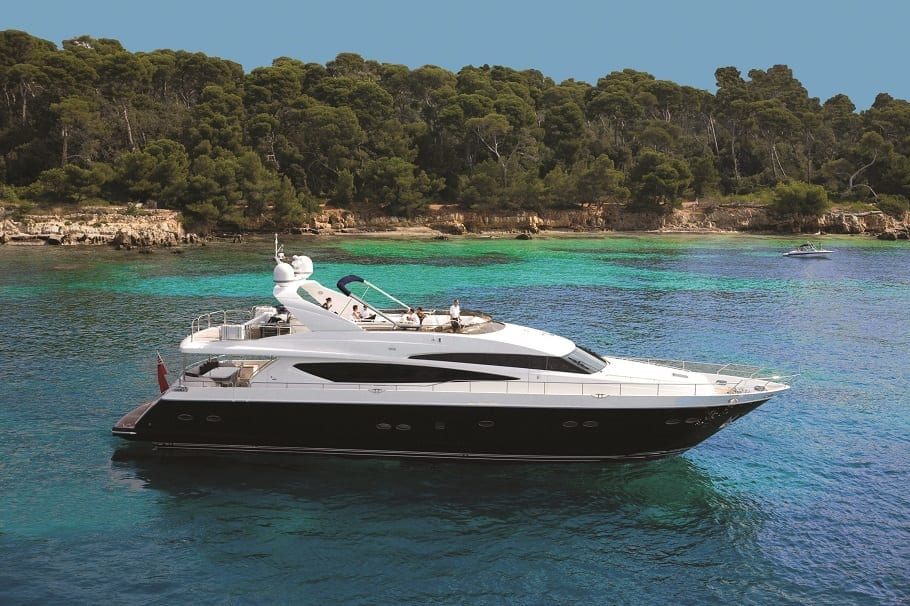 Pushing the boat out: Princess 40M
Built in 2012, lavishly refitted in 2018 and costing €155,000 per week, the IMPERIAL PRINCESS BEATRICE is a Princess 40M yacht capable of accommodating ten guests and seven crew. Based in and around Corsica, Sardinia, the Amalfi Coast and the French Riviera, she offers all the space you need both to rest and unwind in your own private region of the yacht and to come together for large parties in a variety of spectacular living zones. You can gather in the saloon, enjoying panoramic views of the seascape through long seamless windows or you can pop outside onto one of the yacht's magnificent pop-out balconies. You can sunbathe, dine or party on the upper deck, foredeck and sun deck or you can retire to the Jacuzzi with a cocktail. Fitted out in a restful combination of Scandinavian greys, crisp whites and rich wooden finishes with integrated mood lighting, this is also a yacht that can cater for outdoor enthusiasts. With a 6.5-metre RIB tender and a pair of Sea-Doo jet skis, plus three high-performance Seabobs, two paddleboards, a couple of sea kayaks and the full complement of wakeboards, skis, snorkelling gear and fishing equipment, IMPERIAL PRINCESS BEATRICE is designed to deliver whatever kind of charter experience you and your guests desire. That said, if you want to take a look at an alternative Princess 40M Yacht, SOLARIS is also available at €140,000. And if you have a slightly more modest budget, and you're happy to sacrifice a little of that space, prestige and versatility, the Princess 30M luxury motor yacht, HALLELUJAH is also very tough to ignore.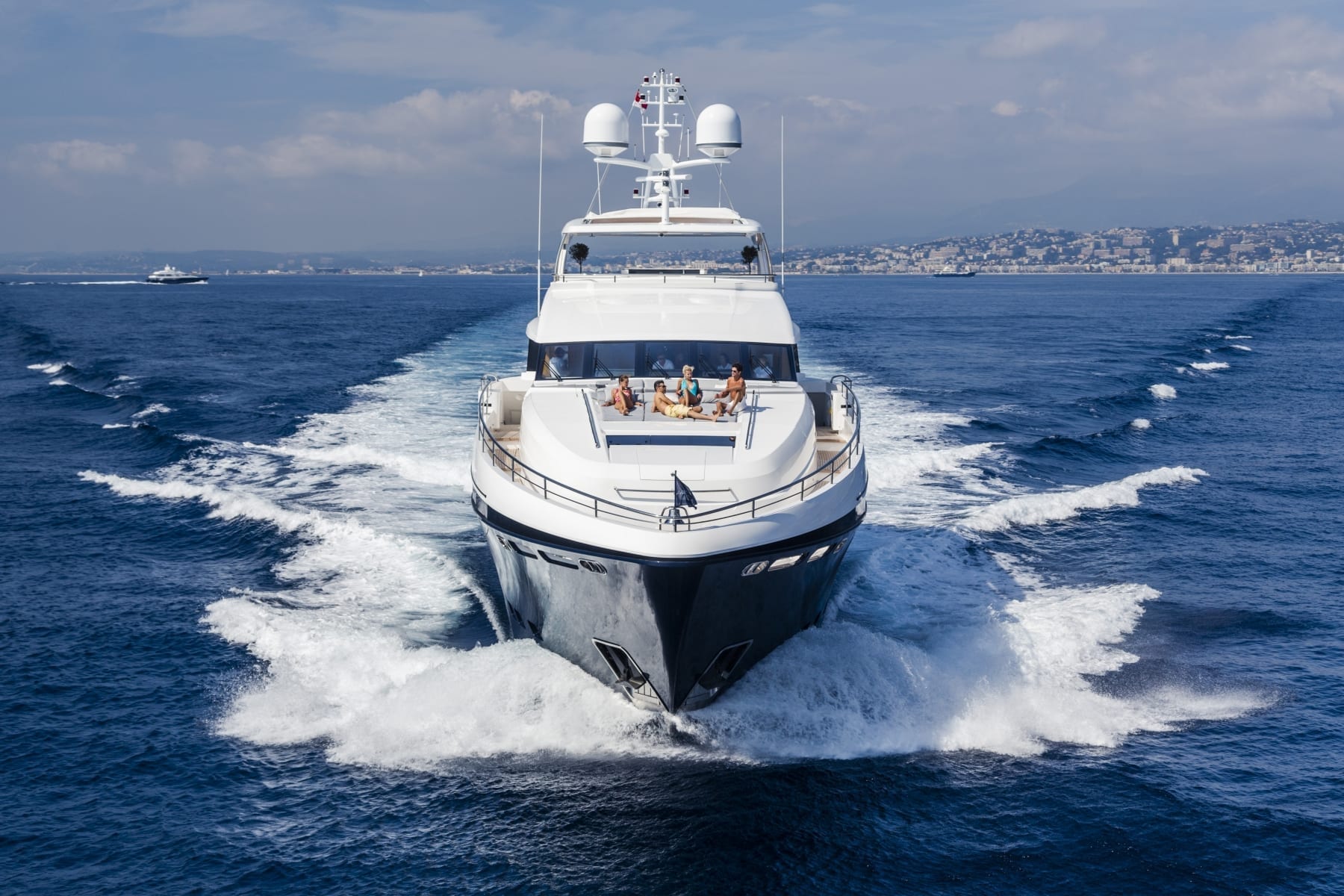 Four great ways to maximise your value for money with yacht charter costs
The four most effective ways to manipulate your overall yacht charter cost is to introduce a bit of flexibility in terms of (1) the destination, (2) the timing, (3) the guest numbers and (4) the yacht type. Have you considered heading to the east, rather than the west Mediterranean? While the French and Italian Riviera's remain as spectacular as they ever were, Turkey, Greece and Croatia tend to provide a longer season and lower costs. If you decide that you don't want to change the destination, have you considered shifting the timing of your charter to avoid premium peak-season prices? There are ways to ensure your yacht charter is designed around you, and that is what Princess Yacht Charter are here to assist with.
For more information, or to book your luxury yacht charter, contact us on +44 (0)207 499 5050 or email info@princessyachtcharter.com